Tamales are thought of as being a complicated and time-consuming labor of love, but it really doesn't have to be.
This misconception comes from the fact that tamales are usually made in huge quantities, to be shared with large, or even multiple families. You don't have to make such a big production if you are cooking for a modest amount of people. Then again, if you do want to make this to share with all your friends and family, by all means!
Tamales are one of those magical food vessels that can carry a number of different, delectable fillings inside; from sweet corn, to poblanos, to tempeh.
In this recipe we are using a fiery, spiced jackfruit as our filling of choice.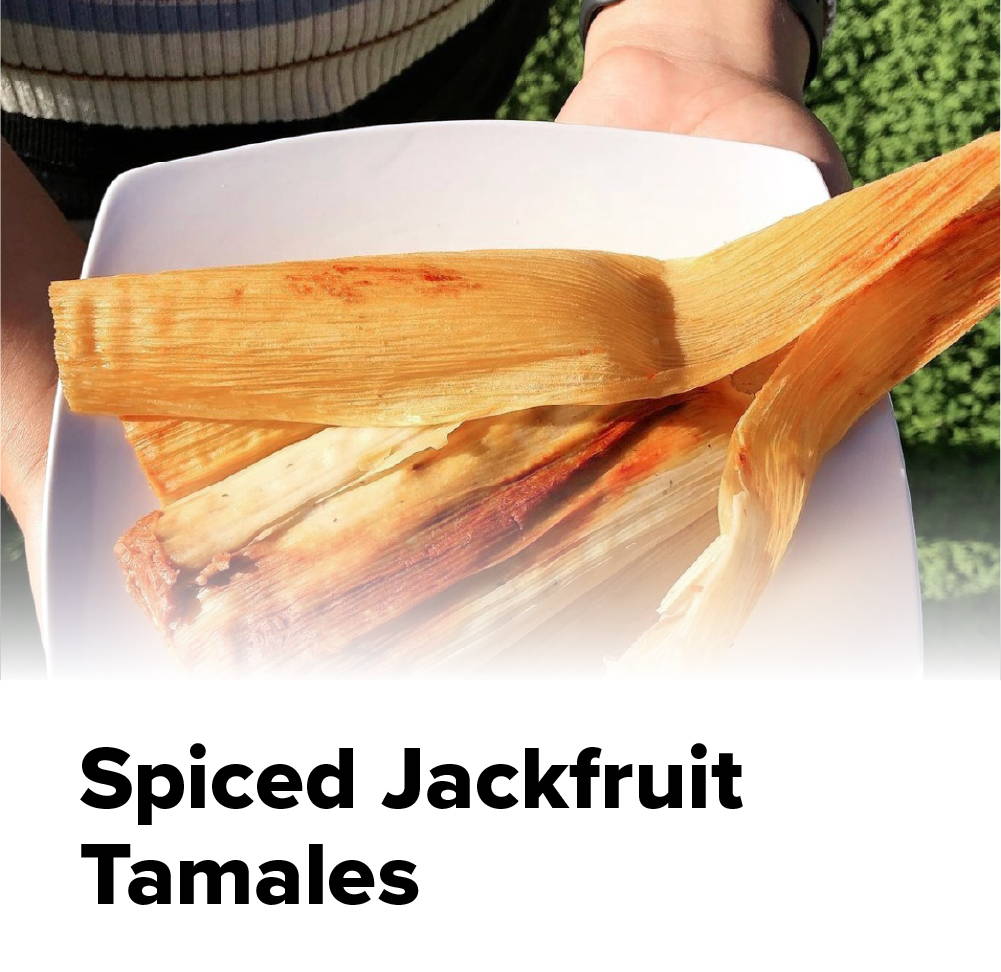 Ingredients:
Tamale Dough:
~25-30 corn husks
4 cups Masa Harina
3-3 ½ cups vegetable broth
½ cup olive oil
1 teaspoon baking powder
½ teaspoon salt
¼ teaspoon turmeric
Spiced Jackfruit Filling:
40 oz jackfruit, chopped (canned or fresh)
1 tablespoon olive oil
1 yellow onion, sliced
4 cloves garlic, minced
½ cup vegetable broth
1 tablespoon agave/maple syrup
½ lime, juiced
2 teaspoon chili powder
1 teaspoon cumin
1 teaspoon smoked paprika
½ teaspoon salt
3 tablespoons Complement Unflavored Protein (optional protein boost)
Directions
For the husks:
Separate the corn husks and soak them in a large bowl of hot water for 30 minutes to 1 hour, or until pliable. Drain.
Rip one or two of the corn husks into thin (1/4″) strips and use these later to tie the tamales shut.
For the jackfruit filling:
Heat olive oil over low heat and add in onions and garlic, stirring until slightly soft.
Add in the cumin, chili powder, and smoked paprika, stir for a few minutes until nice and fragrant.
Next, add in your chopped jackfruit and salt and sautee until slightly browned.
Now, add in the vegetable broth, agave, lime juice, and optional Complement Protein and bring to a slight simmer.
Stir everything together and let the liquid cook out until it's a nice juicy consistency.
For the dough:
In a large bowl, add in the masa harina, baking powder, salt, and turmeric. Mix together until uniform.
Pour in 3 cups of vegetable broth (to start) and the 1/2 cup of olive oil. Mix until well combined, adding more liquid as needed so that the dough is spreadable (about 1/2 cup more).
To assemble each tamale, spread about 3-4 tablespoons of the masa mixture on the center of the corn husk to 1/4 to 1/2 inch thickness (depending on your preference). Place 2 tablespoons of the filling into the center.
Fold in and overlap both sides of the husk and then fold up the bottom.
Tie your tamales shut with the husk strips you cut earlier.
Place the tamales open side up into a large steamer basket. Add water to a large steamer pot, below the basket, and bring it to a boil.
Reduce heat to low and cover. Steam the tamales for 1 hour, being sure to add water to the pot when necessary to prevent burning.
To eat, remove hot tamales from husks and enjoy with your toppings of choice (like this delicious Mole Recipe)!
To store, let them cool in their husks before refrigerating.