Mole is a delictibly complex and robust sauce that comes in many different styles. Depending on who is making it for you, who's grandmother taught them, and where that grandmother grew up, the ingredients can vary greatly.
This version is one that was given to me by a friend whose grandmother was from Oaxaca and would be considered a mole negro. However, with the flexible nature of this recipe, you can feel free to substitute many ingredients, such as the nuts, seeds, chilis, and dried fruit, to your personal preference – or the limitations of your current pantry contents.
If you make more than one batch, it will hold up great in the freezer for future quick meals. It's delicious poured over practically anything (including this tamale recipe), but particularly great over hearty roasted vegetables like sweet potatoes or fall squash.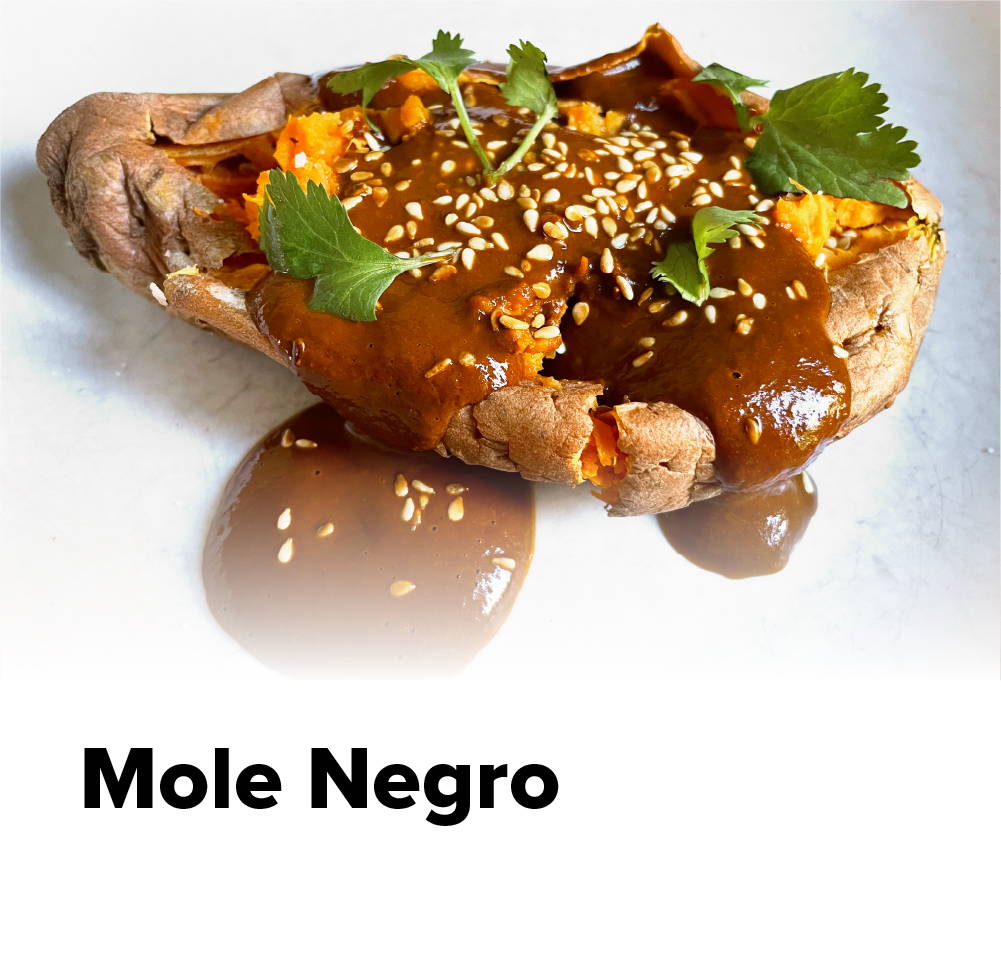 Ingredients:
3 dried chipotle chiles, stemmed and seeded
2 dried guajillo chiles, stemmed and seeded
2 dried ancho chiles, stemmed and seeded
2 cups rich vegetable broth
1 slice bread, torn into pieces
2 corn tortillas, chopped
5 tomatillos, cut in half
2 tomatoes, cut in half
1 tablespoon coconut oil
1 onion, thinly sliced
½ head garlic, peeled and chopped
⅓ cup peanuts, chopped
1 tablespoon toasted sesame seeds
⅓ cup raisins
1/2 tablespoon ground cumin
1 tablespoon dried thyme
1 teaspoon ground allspice
1/2 teaspoon ground clove
1 teaspoon ground cinnamon
1 cup rich vegetable broth
1 tablespoon cocoa powder
3 tablespoons Complement Chocolate Protein (or 1 more tablespoon cocoa powder)
2 tablespoons brown sugar
1 teaspoon salt
Directions
Toast chipotle, guajillo, and ancho chiles in a dry pan over medium heat, stirring constantly, until warm and aromatic, about 3 minutes. Transfer to a blender.
Heat 2 cups veg broth in a saucepan until it begins to simmer, about 5 minutes. Pour broth into the blender.
Toast bread pieces and tortilla pieces in a dry pan over medium heat, stirring constantly, until browned. Transfer to the blender with broth and chiles.
Allow the chiles, toasted bread, and tortillas to soak, fully submerged, in the broth until softened, about 10 minutes. Blend the mixture until smooth.
Cook tomatillos and tomatoes in a dry skillet on medium-high heat until soft and charred on each side. Place tomatoes in the blender with the chile puree.
Melt coconut oil in a large skillet over medium heat. Stir in onion, garlic, peanuts, sesame seeds, raisins, cumin seeds, thyme, allspice, clove, and cinnamon; cook and stir until onions are soft and golden, 5 to 8 minutes. Add onion mixture to the blender with the chile-tomato mixture and blend until smooth.
Pour chile puree into a large saucepan over medium heat. Stir in 1 cup veg broth, cocoa, chocolate protein, sugar, and salt. Bring mixture to a simmer; stir until all is combined and sauce is thickened and slightly reduced, 10 to 15 minutes.