Buy 1 Product = Feed 1 Kid in Need a Plant-Based Meal
Powerful blend of plant-based DHA, EPA, ALA, and SDA omega-3 fatty acids.
Omega Complex contains over 960 mg of omega-3 fatty acids from algae and ahiflower seed to help support healthy brain function, nervous system regulation, and foundational long-term health.*

Essential omegas,
derived from algae and ahiflower.

A daily intake of essential omega-3 fatty acids is critical for optimal functioning, from regulating your cholesterol levels to powering your nervous system. But certain omega-3 fatty acids are lacking in most plant-based diets, and vegan multivitamins often have unreliable dosages, if they contain omega-3s at all.
The unrefined algae oil used in Omega Complex naturally contains other beneficial compounds including carotenoids, Omega-7, and Chlorophyll. The ahiflower oil has an optimal 4:1 omega-3 to omega-6 ratio, and the highest concentration of any plant-based source of the powerful SDA omega-3 fatty acids.
Together, the environmentally sustainable oils in Omega Complex contain over 960 mg of omega-3s to support proper brain function, heart health, nervous system regulation, immune health, and more.*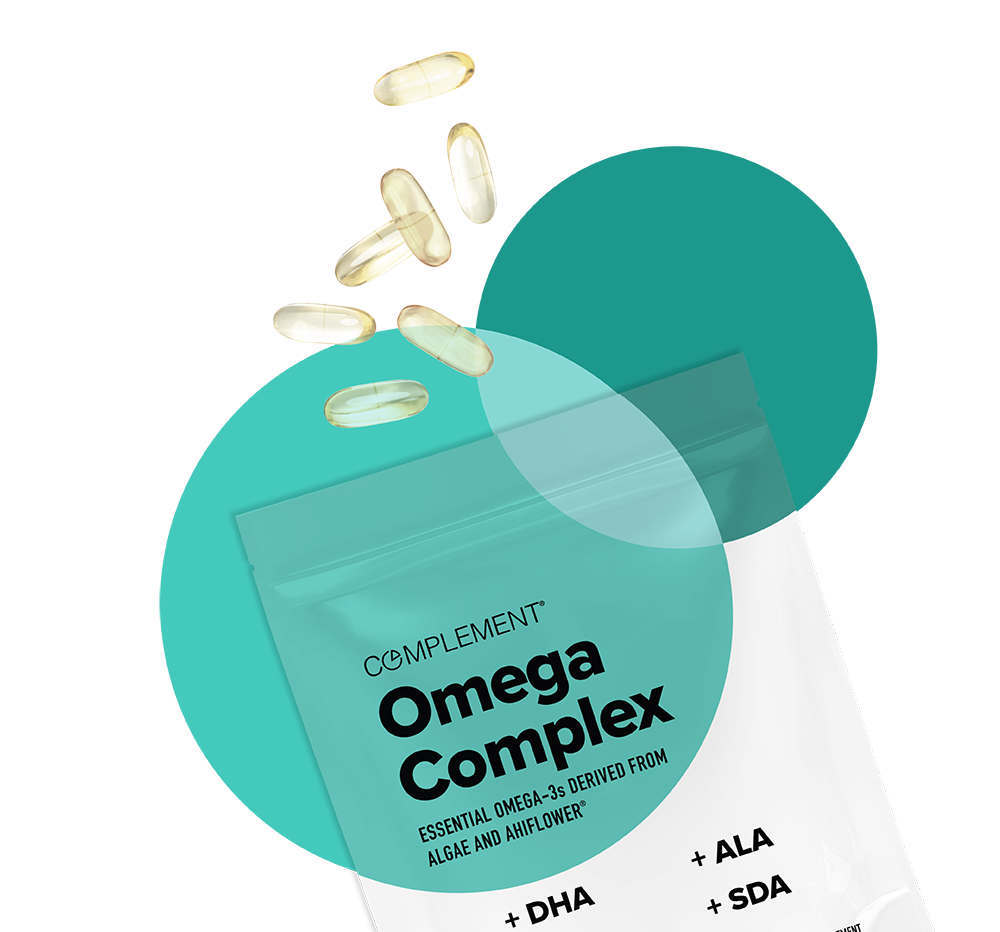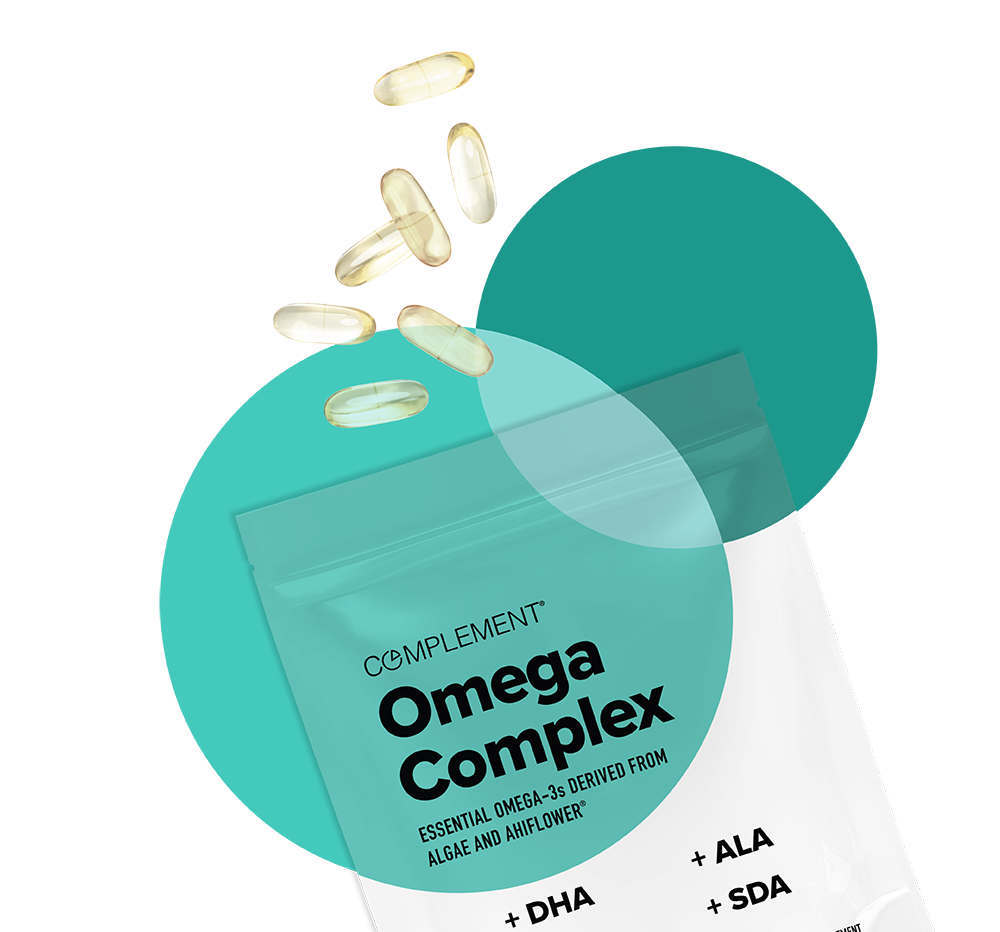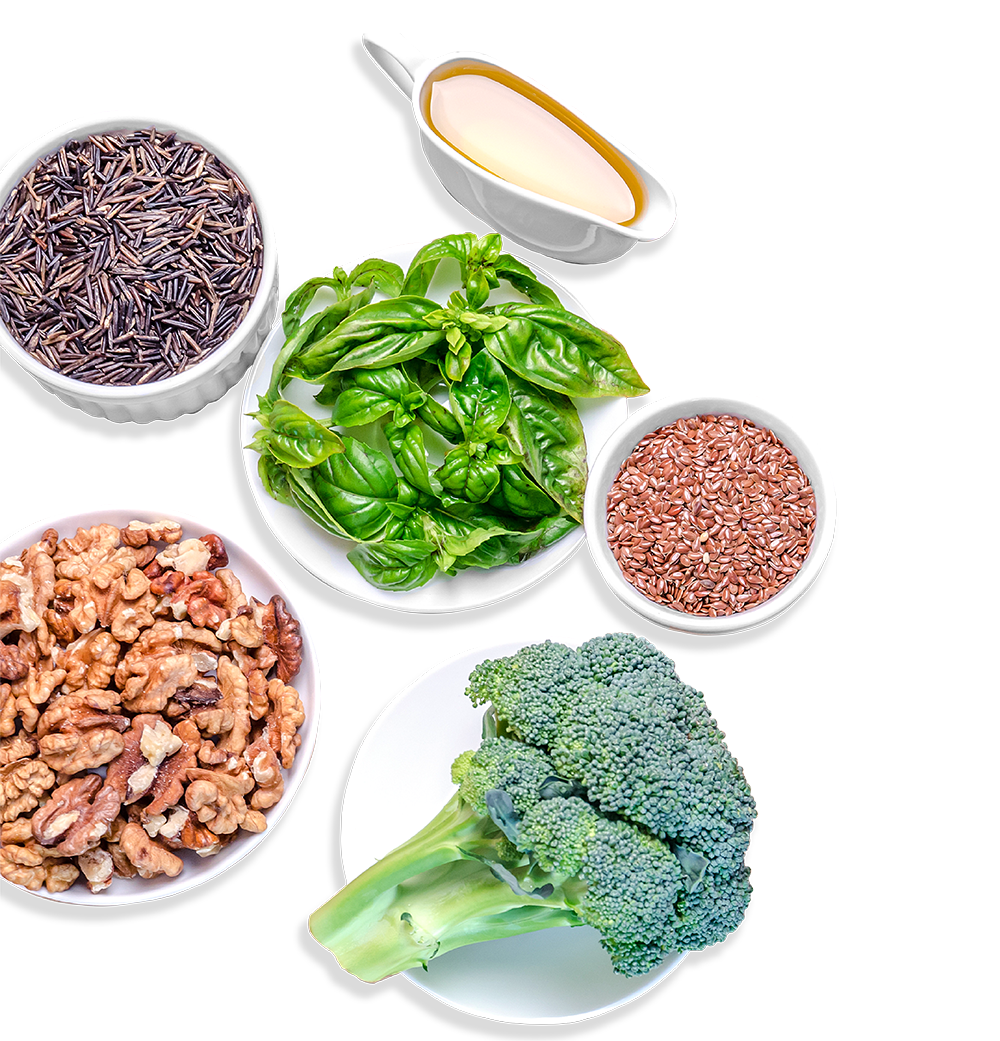 Why flaxseeds and
(vegan) sushi aren't
enough.
Essential omega-3 fatty acids can be found in foods like flaxseeds, walnuts, and seaweed, but critically, research suggests that less than 1% of ALA is converted into "physiologically effective levels" of DHA or EPA and consuming seaweed is an ineffective source of omega-3s due to the amount required.
While it's not challenging to get omega-3s through consuming whole plant foods, it's extremely difficult to get the right kinds in effective dosages to support your long-term health.
The mega benefits of the Omega Complex.

Promotes healthy brain fuction.*
Research shows that omega-3s are critical for brain development in infants and kids.*
SUPPORTS A HEALTHY CARDIOVASCULAR SYSTEM*
Omega-3s can help recuce triglycerides and raise "good" HDL cholesterol levels.*
AIDS NERVOUS SYSTEM REGULATION*
EPA, in particular, has been shown to support your nervous system.*
IMMUNE SYSTEM SUPPORT*
Omega-3s have been shown to support immunity throughout the life stages.*
AIDS ENERGY PRODUCTION*
Studies suggest that a higher intake of omega-3 fatty acids can help reduce fatigue.*
Omega Complex contains the 4 essential omega-3 fatty
acids, which work together to support your long-term health.
Frequently bought together.
Optimize your nutrition for an empowered life.
Fully transparent production.
Omega Complex goes through a rigorous inspection process that includes third-party testing.
We want you to be certain that you are getting the highest quality nutrients, free from pollutants, heavy metals, and harmful pathogens — not to mention common allergens and artificial sweeteners, colors and flavors. That's why every batch undergoes a rigorous series of tests to confirm that it contains all that it should - and nothing that it shouldn't.
And we mean rigorous! We do as many as 19 different tests to ensure potency and safety. All this is done in pharmaceutical-grade facilities that are FDA Registered, and operate under cGMP standards.
This means that every ingredient and dosage on the back of the bottle is verified by an independent lab. And just as important, the ingredients are tested for things like pesticides, E Coli, heavy metals, and salmonella.
Potency
We verify that all active ingredients on the label are present in the right amounts. But we're not satisfied with just meeting those - to ensure potency over time does not diminish, we aim for 10-20% over what the label states.
Heavy Metals
We take soil and water pollution seriously, especially since we design our products to help your body fight against it. Therefore, each batch gets tested for Arsenic, Cadmium, Lead and Mercury.
Pathogens
Our products are doubly protected by being produced in a certified facility, and tested for yeast and mold, and possible bacterial presence, such as Salmonella, E.coli and other coliforms.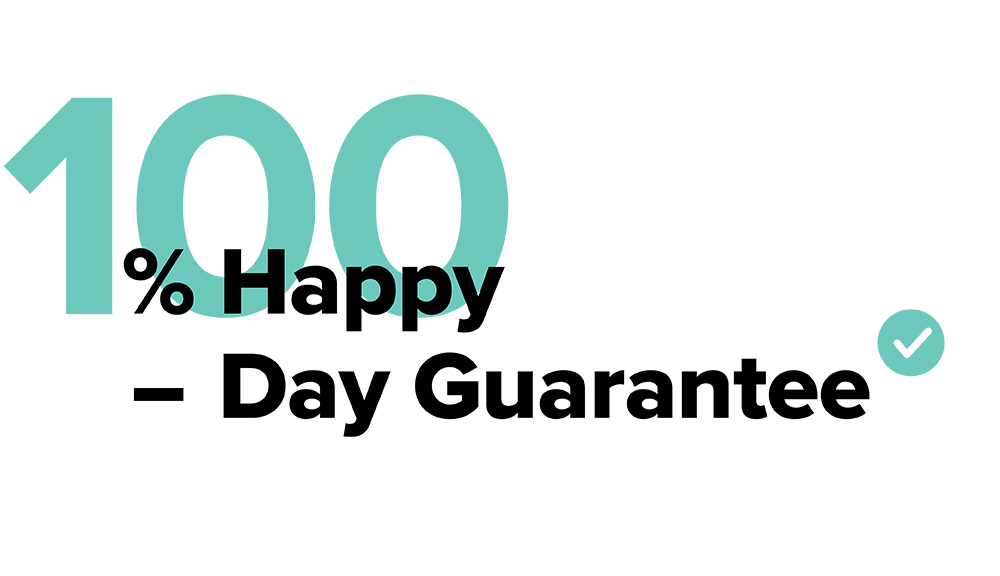 We stand behind our products 100%. If you're not happy with the results, taste, or experience, we'll fix it.
You have a full 100 days after receiving your product to try it out and see if it's the right fit for you.
And if you don't love it within the first 100 days, we'll issue a full refund. No questions asked. No fine print. That's the Complement guarantee.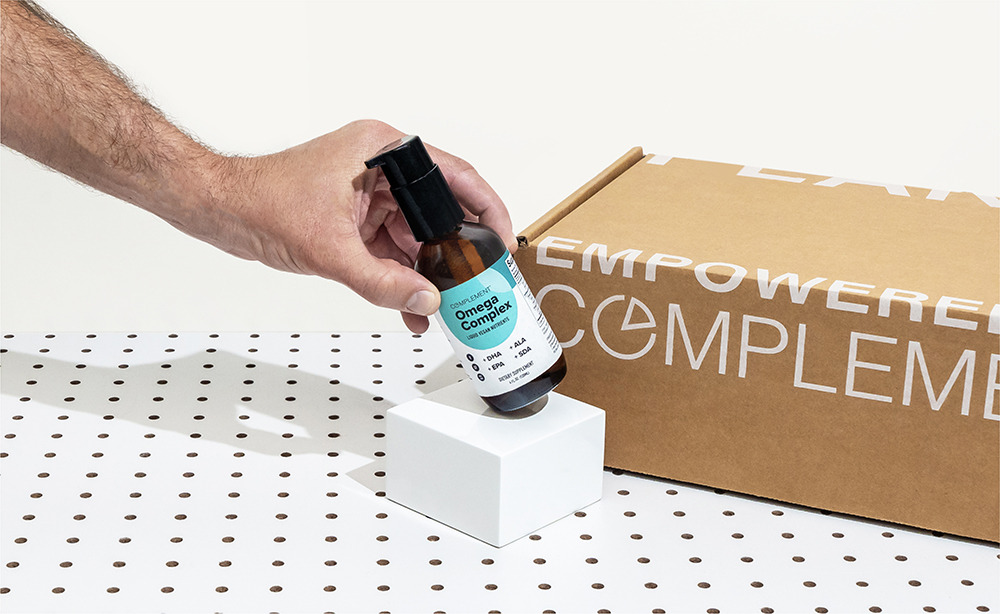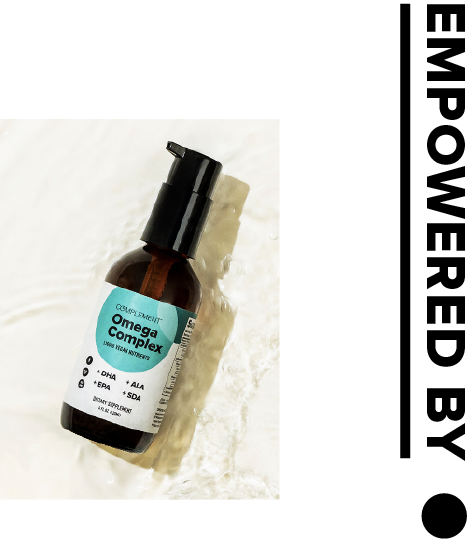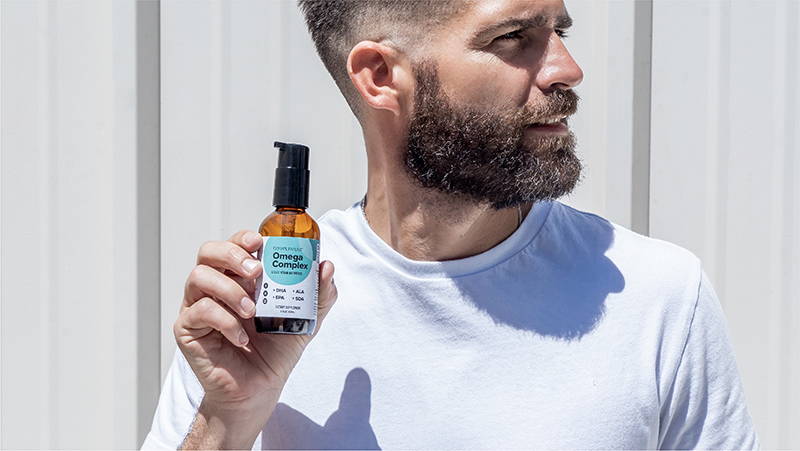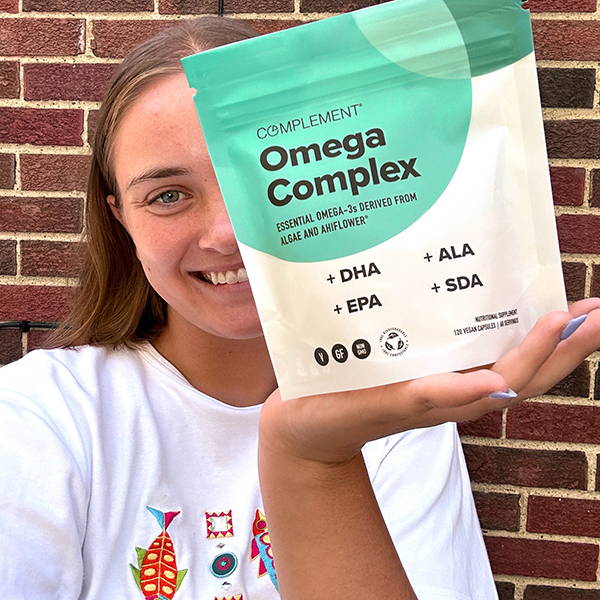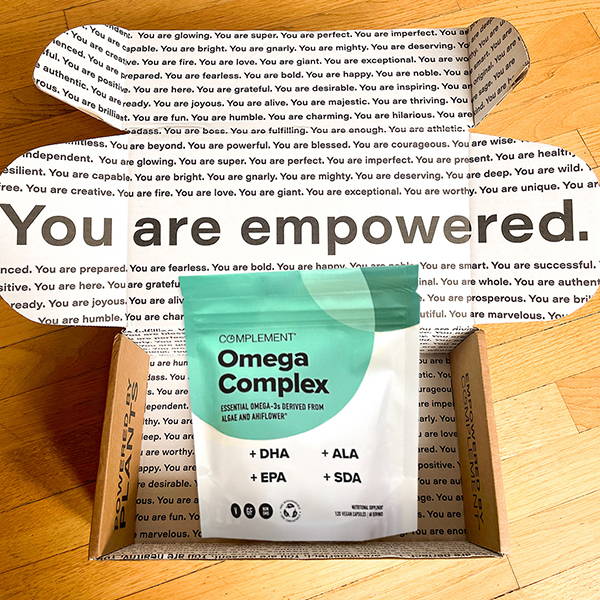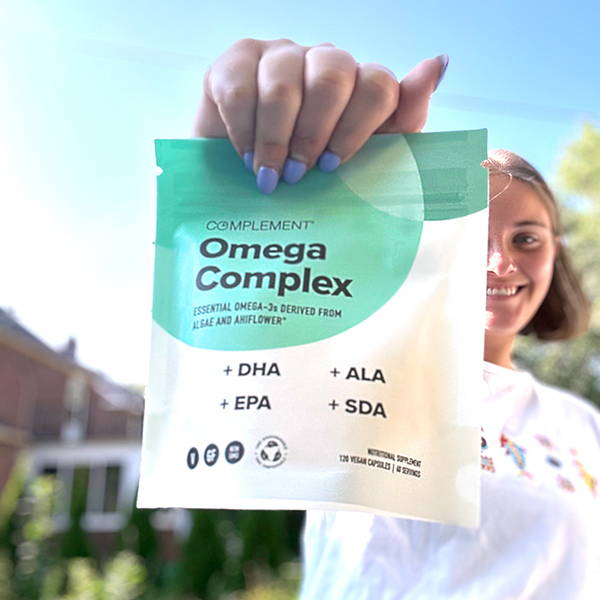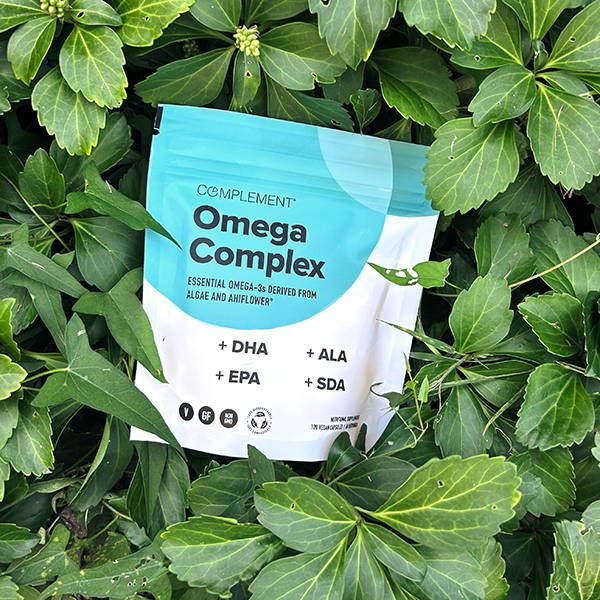 Frequently asked questions.
Still not sure? Find answers to your questions here...
It's easy to subscribe & save.
Free US Delivery at $95
We'll get Omega Complex right to your door, right on time.
Easy Subscriptions
Bottles coming too slow or too fast? You can adjust or skip orders in whatever way suits you.
Satisfaction Guaranteed
Return your bottle at any point within 100 days of purchase for a full refund.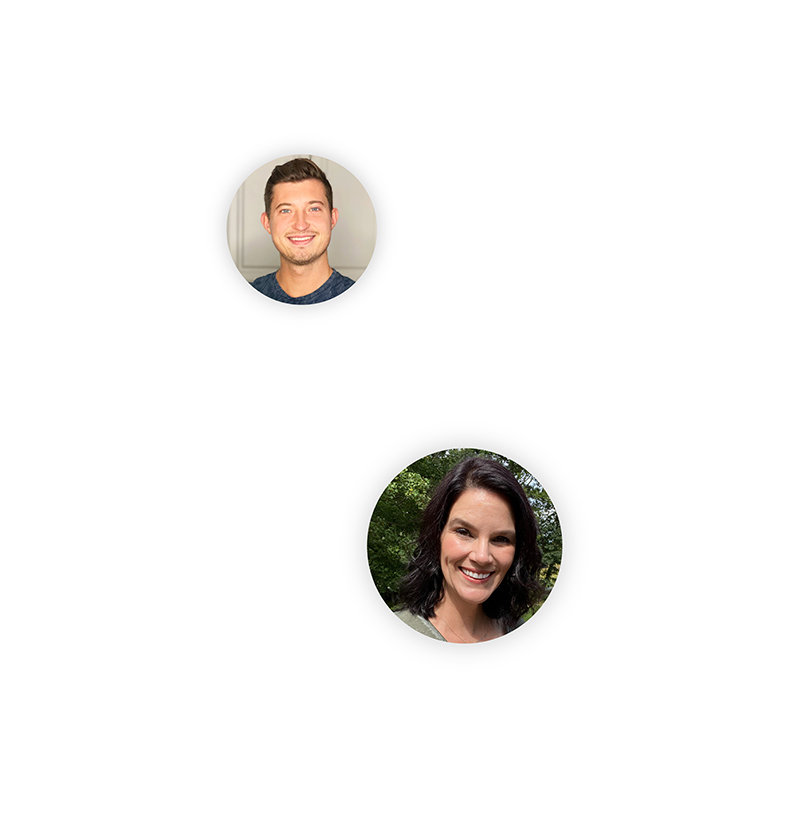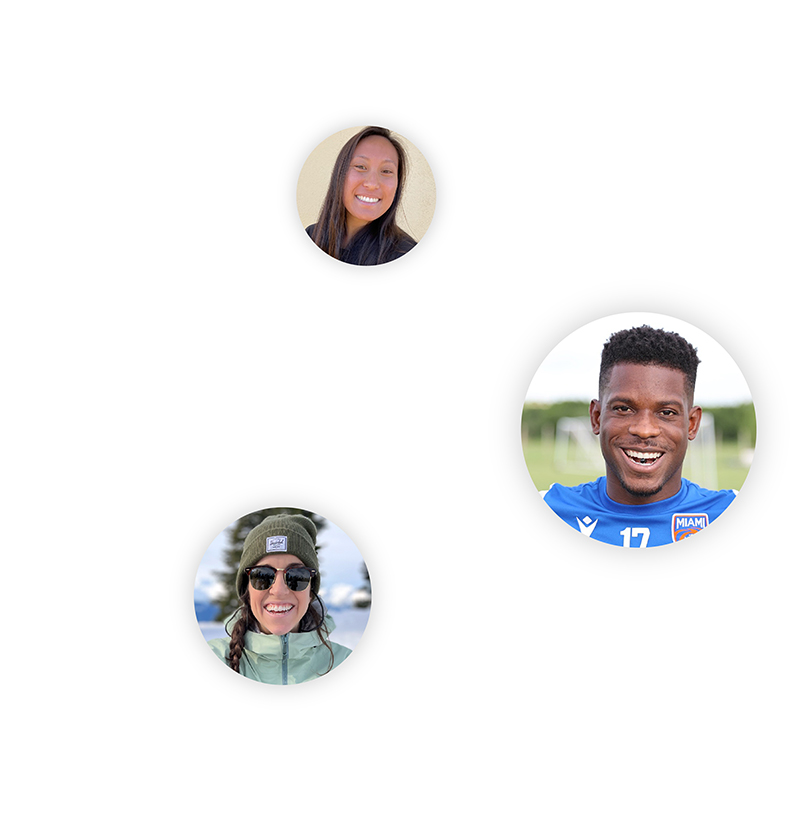 Enjoy 10% off your first purchase

when you subscribe to our newsletter