This beloved Thanksgiving side dish is getting a plant-based makeover and not going anywhere near a turkey. The sourdough bread gives a little extra edge to an already deeply savory and satisfying flavor profile. Add this essential delicious dish to your plant-based Thanksgiving spread to complete your festive menu.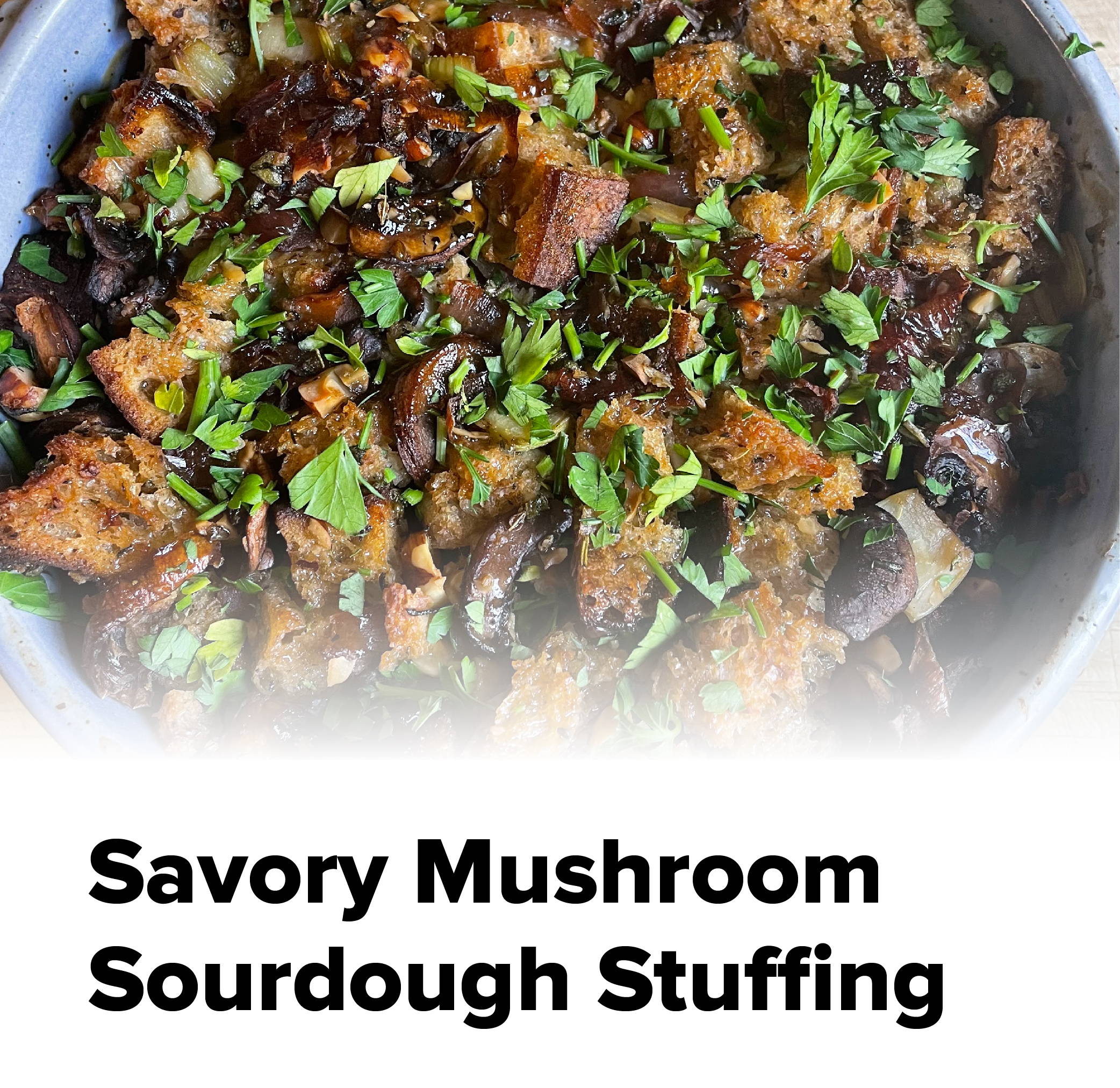 Ingredients:
½ boule sourdough bread cut into cubes
1 tablespoon olive oil
1 yellow onion halved and sliced
2 cups sliced cremini mushrooms (or any mushroom of your choice)
3 stalks celery washed and chopped
1 tsp salt
3 cloves fresh garlic minced
1 tbsp fresh sage minced
1 tbsp fresh rosemary minced
2 cups vegetable broth
¼ cup Unflavored Complement Unflavored Protein
fresh pepper to taste
Directions
Prepare the bread by cutting it into large bite-sized cubes. This recipe works best if the cubes are dry. To dry them out, leave them out on a countertop overnight or toast them in a low-temp oven.
Preheat your oven to 350º.
Add olive oil to a pan with high sides over medium-low heat.
Add the onions and stir until caramelized (10-15 minutes).
Add the celery and cook until translucent.
Add the mushrooms and cook until tender and browned and all liquid has evaporated.
Add the garlic, sage and rosemary and cook for 2-3 minutes more.
Add the vegetable broth and stir in Complement Unflavored Protein, increase the heat and bring to a low simmer.
Lightly grease a casserole dish with a small amount of extra virgin olive oil (or another plant-based oil).
Fill the casserole dish with the bread cubes. Pour the broth and veggies over the bread cubes and gently toss to coat the bread cubes.
Bake at 350º for 45-50 minutes on the middle rack until the stuffing is golden brown. Serve immediately!