So we've got a problem with meal plans.
It seems as though most of these plans have neglected to address one very simple and universal fact:
Life happens.
You're asked to stay at work a bit longer, your kids are chanting "pizza, pizza" for dinner, or you get home and realize you would rather starve than step foot into your kitchen that night.
That's just life – but unfortunately, most meal plans don't seem to take that into account.
So many people start off strong with their meal plans, just to end up quitting, due to the rigorous and rigid rules put in place.
We don't want that for you. We want you to succeed, no matter what.
If you skip a meal, a day, or even a few days of your meal plan, that shouldn't mean you have to throw in the towel and forfeit the rest. You should have the freedom to pick right back up when you want, and finish on your own time.
That's why we teamed up with our in-house Registered Dietitian to create what may just be the most flexible meal plan you'll ever see – at least that's what we were aiming for.
There are so many great benefits that come with the process of meal planning and we want everyone to have a chance to encorporate them into their lives.
Health
One of the obvious benefits to following a healthy and nutritionally balanced meal plan are the many ways it can nourish and heal your body.
When you're preparing your own food, you can make sure only wholesome ingredients are being used and actively avoid all the junk – which isn't always guaranteed when eating out.
Following a healthy meal plan can also encourage you to form the habit of cooking and choosing foods that are better for you and anyone else you cook for in the long-run.
Variety
Meal plans not only serve as a practical outline for your success, but also as a source of inspiration and motivation to continue nourishing your body with healthful plant-based foods.
Rather than ordering your usual take-out or throwing together your staple casserole, you can try out a new variety of meals, incorporate new flavors, and really shake things up in the kitchen.
Convenience
No guessing what you will be cooking that night or rummaging through the refrigerator 30 minutes before dinner time, which is just exponentially harder when you have a family to cook for too.
When you have a meal plan, you can have everything bought and prepped ahead of time or even fully made ahead of time – especially useful for those extra busy days in the middle of the week.
Accountability
When you've proactively set yourself up with a healthy plan of action for your food intake, it leaves much less room for variables such as rash decisions, slip ups, or hangry binge eating.
Having an actual chart that you can keep with you and continuously reference will naturally set a goal for you to achieve. And it's not some kind of boring chore either, it's a fun little adventure that can benefit you and your whole family's nutritional health.
Why Our Meal Plan is Different
No matter what your household size, kitchen-skill level, and work schedule is, this plant-based meal plan was built with the flexibility to work with you.
User Friendly Recipes
Some of us would like to make fun and healthy food without requiring the refined skillset of an Iron Chef.
When we created our meal plan, we kept all of these things in mind. We wanted to share something that all levels of home cooks could appreciate – from, "I'm not sure how to boil beans" to "I bring my own set of knives when I travel."
Affordable
Many a meal plan is guilty of calling for specialty ingredients that may actually end up costing you more than if you were to just eat out. We made sure to use ingredients that you are likely to already have in your pantry, and if not, it won't require a visit to a pricy boutique market.
Time Saving
When you delegate your time wisely and meal prep ahead of time (especially before the work week), you can save yourself a lot of trouble on busy days. Have breakfasts waiting for you when you wake up and lunches all set to grab as you run out the door.
Adaptable to Fit Your Needs
These are recipes that can be altered, subbed, tripled, or even all together skipped, depending on your unique circumstances and tastes.
If you are focusing on building strength, consider upping the protein source in each meal or adding an extra source of protein, such as protein powder.
If you are avoiding oils, replace any of the cooking oil with some water instead and opt for cast iron or ceramic non-stick pans to cook with.
If you are cooking for a partner or your whole family, make sure to scale up your portions and recipes to account for this!
These are only a few examples. Just remember you have the freedom to bend this meal plan to your will.
So whether you're a plant-based veteran, a newbie sprout, or just testing the waters, this meal plan is a great tool to use no matter what stage of your plant-based journey you find yourself in.
The very idea at the core of this meal plan is freedom.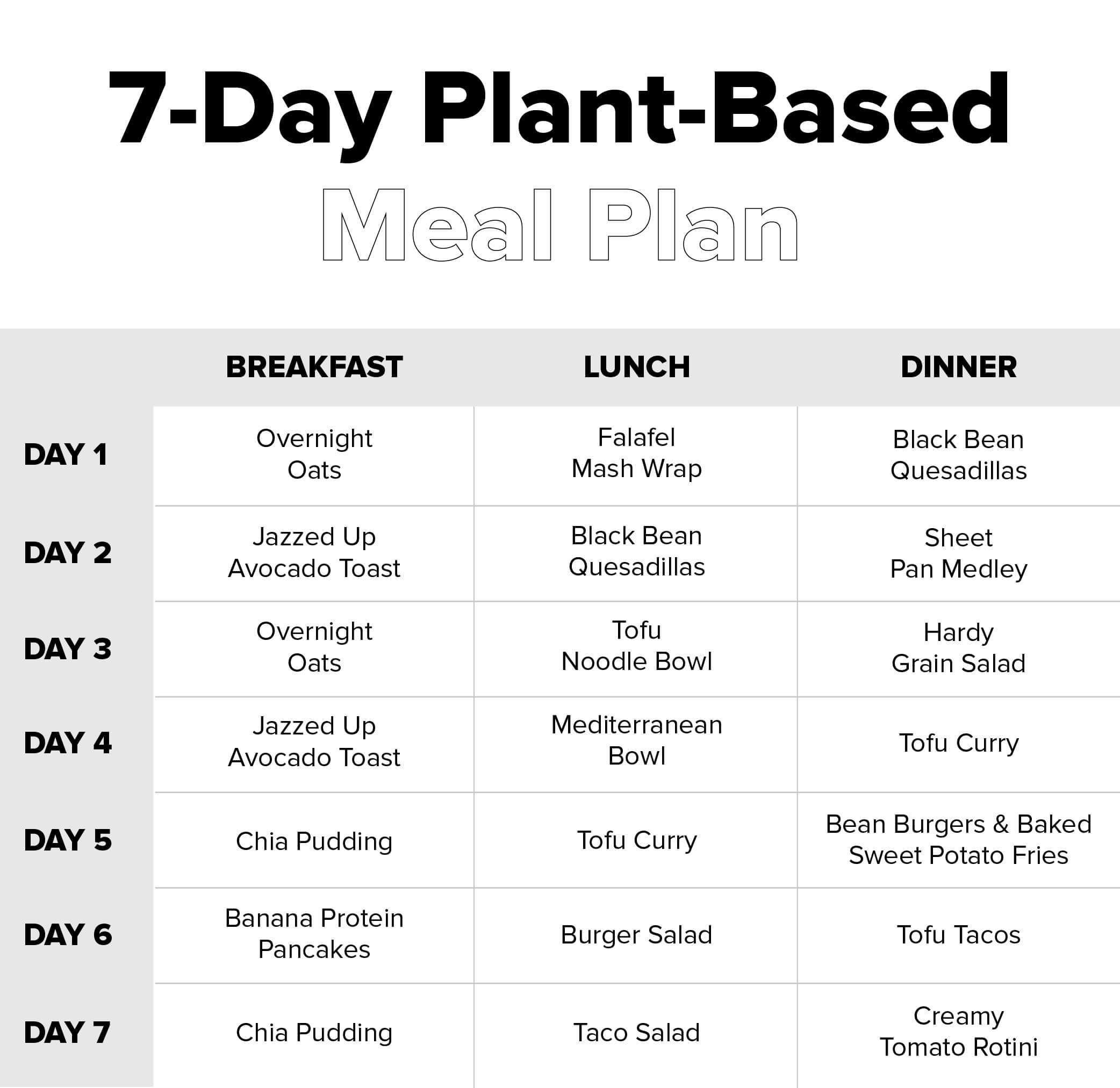 Meal Plan Walkthrough (AKA, How it Works)
All listed recipe portions are for set to go for the solo meal planner. If you are doing this with a partner or the whole family, make sure your recipes and portions are being adjusted before you start!
Day 0:
Prepare your two breakfasts worth of Overnight Oats, along with any of the other foods for the next few days that you may not want to prepare the day-of (especially if you are starting on a Monday). If you are taking lunch with you, it's up to you whether you want to pack it up the day before or morning-of, before heading out.
Day 1:
Hopefully you didn't forget to prep your Overnight Oats for your first meal of the plan! If you already prepared your Falafel Mash and Refried Black Beans ahead of time, lunch and dinner will be a breeze. Make sure you are putting aside a portion of Refried Black Beans for your lunch on day 2.
Day 2:
Great bread choices to have with your Avocado Toast are sprouted wheat or organic sourdoug. Lunch is leftover quesadillas from the night before, and dinner is a lovely Sheet Pan Medley over quinoa. Remember to make lots and set a good amount aside – especially the quinoa becaue it will be used for day 3 and 4.
Day 3:
Your Overnight Oats should be ready to receive whatever fruit topping you're in the mood for. For lunch you are creating a Tofu Noodle Bowl using leftovers from the night before. Dinner is a hardy grain salad also making use of the leftovers from last night! Waste not, want not.  
Day 4:
Avocado Toast to start your day, maybe with some new toppings for variety? For lunch, the Mediterranean bowl uses whatever quinoa left from the previous night. And for dinner, a delicious Tofu Curry will go great with some brown rice (save some for lunch tomorrow)! Tonight you'll also want to go ahead and prepare two days worth of Chia Pudding for breakfast.
Day 5:
Your Chia Pudding should be creamy, plump, and ready to devour. Next, a simple leftover meal of Tofu Curry and brown rice for lunch and an amazing Bean Burger for dinner. Don't forget to save a burger patty for your lunch tomorrow.
Day 6:
These Apple Pecan Protein Pancakes are made in one sheet pan in the oven to keep things super easy. Lunch will be a Burger Salad using a patty from the night before with whatever burger toppings and dressing you'd like. For dinner, enjoy some deliciously fun Tofu Tacos – and remember to keep some tofu for your lunch tomorrow!
Day 7:
Enjoy your pre-made Chia Pudding for breakfast with some varied toppings to keep things interesting. For lunch, use your tofu leftovers to make a healthy Taco Salad. And for your final meal of the plan, a beautifully simple Creamy Tomato Rotini.
These aren't rules, they're more like guidelines.
Feel free to switch out a couple of these dinners with take-out or a lovely night out. It's important to know that there is freedom to change within the plan. Even if you sub out half of your meals or ingredients or turn it into a 14-day meal plan, you can still make it your own success.
We didn't include treats and snacks because we want you to be able to snack on whatever is convenient and tasty sounding to you in that moment. We do suggest stocking up on healthy snacks like fresh fruits and veggies, hummus, simple popcorn, nuts, vegan dark chocolate, healthy plant-based bars and bites, smoothies, or protein shakes.
Once you complete this simple and delicious meal plan, you'll have the experience and confidence to form your very own. You can follow the same guidelines we used to create ours (from our amazing Registered Dietitian, Amanda Wagner) and hang onto all of the healthy and convenient benefits!
Meal Plan Shopping List
Don't be daunted by the length of this list! Chances are, you've already got over 50% of the ingredients, as most of these are pantry staples.
Depending on how many people you are cooking for, the amount of each ingredient will vary.
These measurements are how much you'll need for one person for the whole plan. Make sure to adjust if you are including for your partner or family!
rolled oats (1 C)
plant mylk (1 carton)
maple syrup (1/2 C)
chia seeds (1 C)
peanut butter (1 C)
canned chickpeas (2)
vegan yogurt (2 C)
curly parsley (1 bunch)
garlic (1 head)
cumin powder
chili powder
garam masala
cayenne pepper
curry powder
smoked paprika
onion powder
garlic powder
cinnamon
nutritional yeast
jalapenos (1 fresh or 1 small can, optional)
lemons (3)
greens of choice (1 lb.)
tomatoes (3)
tortillas (1 pack)
black beans (2 - 15 oz. cans)
onion (1)
cilantro (1 bunch)
loaf of your favorite bread
toasted sesame seeds (1 T – an optional garnish)
tahini (1 C)
firm tofu (3 blocks)
bell pepper (3)
sweet potatoes (4)
broccoli (2 crowns)
olive oil (1-2 C)
soy sauce (1 C – can use tamari or coconut aminos)
balsamic vinegar (1/2 C)
quinoa (3 C dry)
rice noodles (1 package)
cucumber (2)
sesame oil (1 small bottle)
limes (2)
peanuts (1 C – or another nut of choice)
pecans (1/2 C – or another nut of choice)
apple (2)
apple cider vinegar (¼ C)
dijon mustard (2 T)
tomato sauce (3 - 8 oz. cans, plain)
coconut milk (1 can)
brown rice (1 C dry)
raspberries (or any other berry of choice)
protein powder (2 C – try Complement Protein)
ground flaxseed (1 T – can also use ground chia)
breadcrumbs (½ C)
sriracha (or any other hot sauce of choice)
vegan mayo (1 T)
oat flour (2 C)
baking powder (2 ½ tsp)
bean flour rotini pasta (or any other pasta shape of choice)
tomato paste (1 small can)
cornstarch (1 T)
fresh basil (1 small bunch)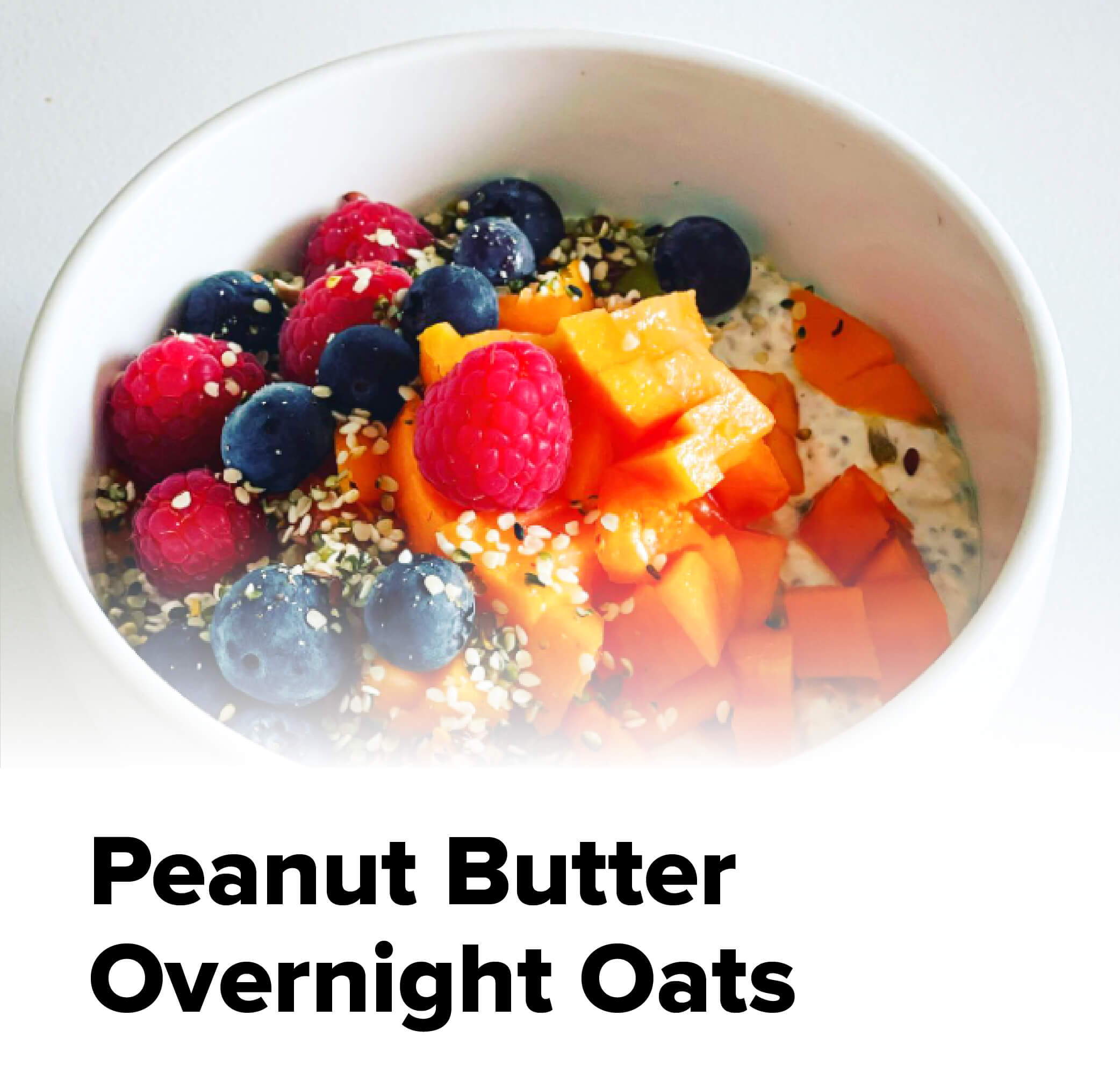 Ingredients:
1/2 C rolled oats
1 T chia seeds
1 T peanut butter (or any other nut butter of choice)
1-2 T maple syrup
pinch salt
1/2 C plant mylk
Directions
Add all ingredients to a bowl, container, or jar.
Stir or shake it up, leave to thicken overnight.
Top with fruits of choice, some granola, or chopped nuts and enjoy!
This is a single serving. Double or tripple to your needs.
Overnight oats is also a great place to add in some protein powder!
Makes 1 serving.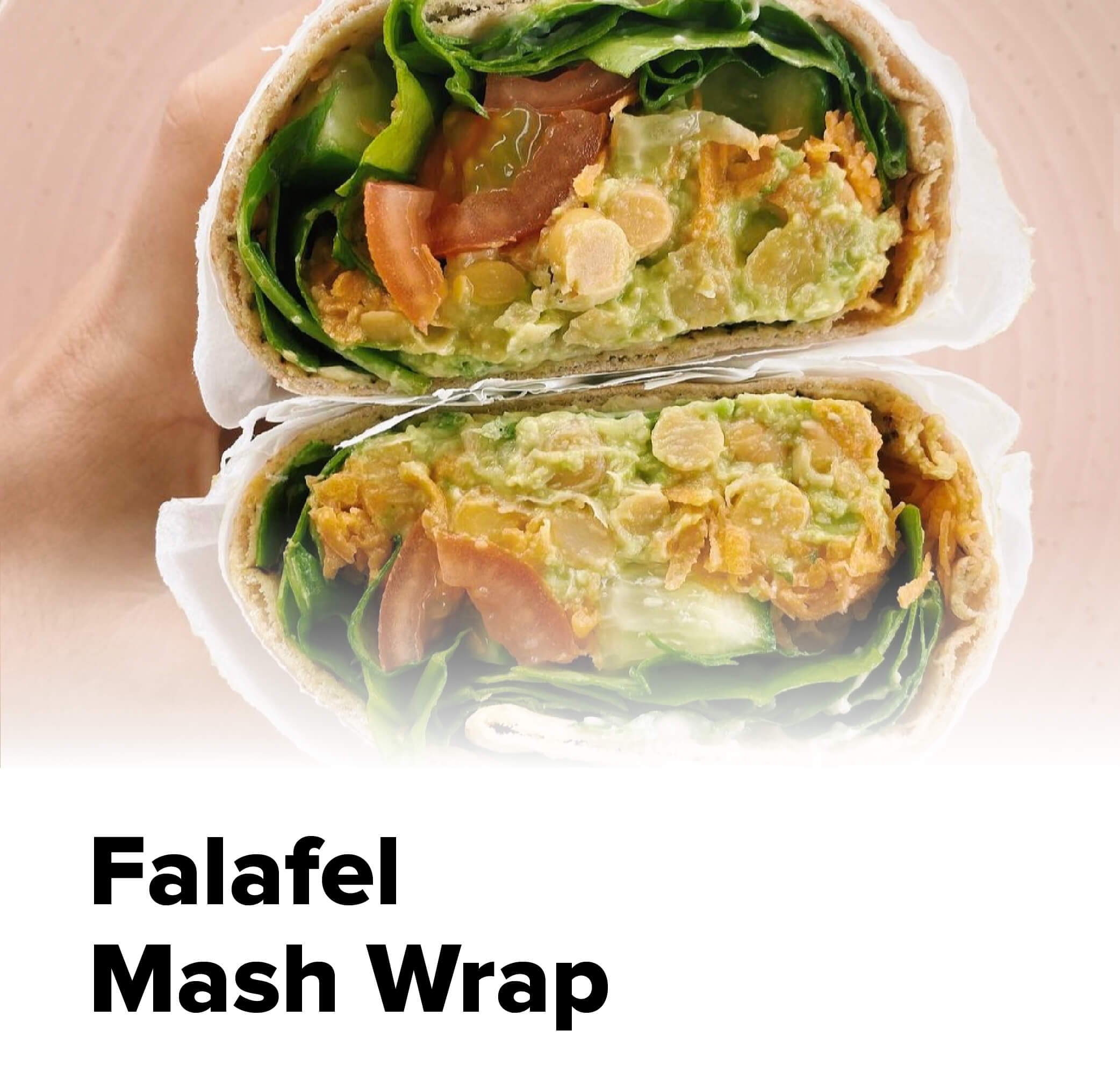 Ingredients:
1 - 15 oz. can of chickpeas
2 T plant-based yogurt
1 C roughly choopped parsley
1 clove garlic, chopped
1/2 tsp salt
1 tsp cumin powder
1 T lemon juice (about 1/2 a lemon)
handfull of greens of choice
1/2 small tomato, sliced
1 tortilla or wrap (preferably whole wheat)
Directions
Add all ingredients into a processor.
Pulse until cohesive but still chunky (or mash it all with a fork).
Add some lettuce and tomato to the wrap, then add some of the chickpea mash, wrap it all up, and devour.
Makes 2 servings.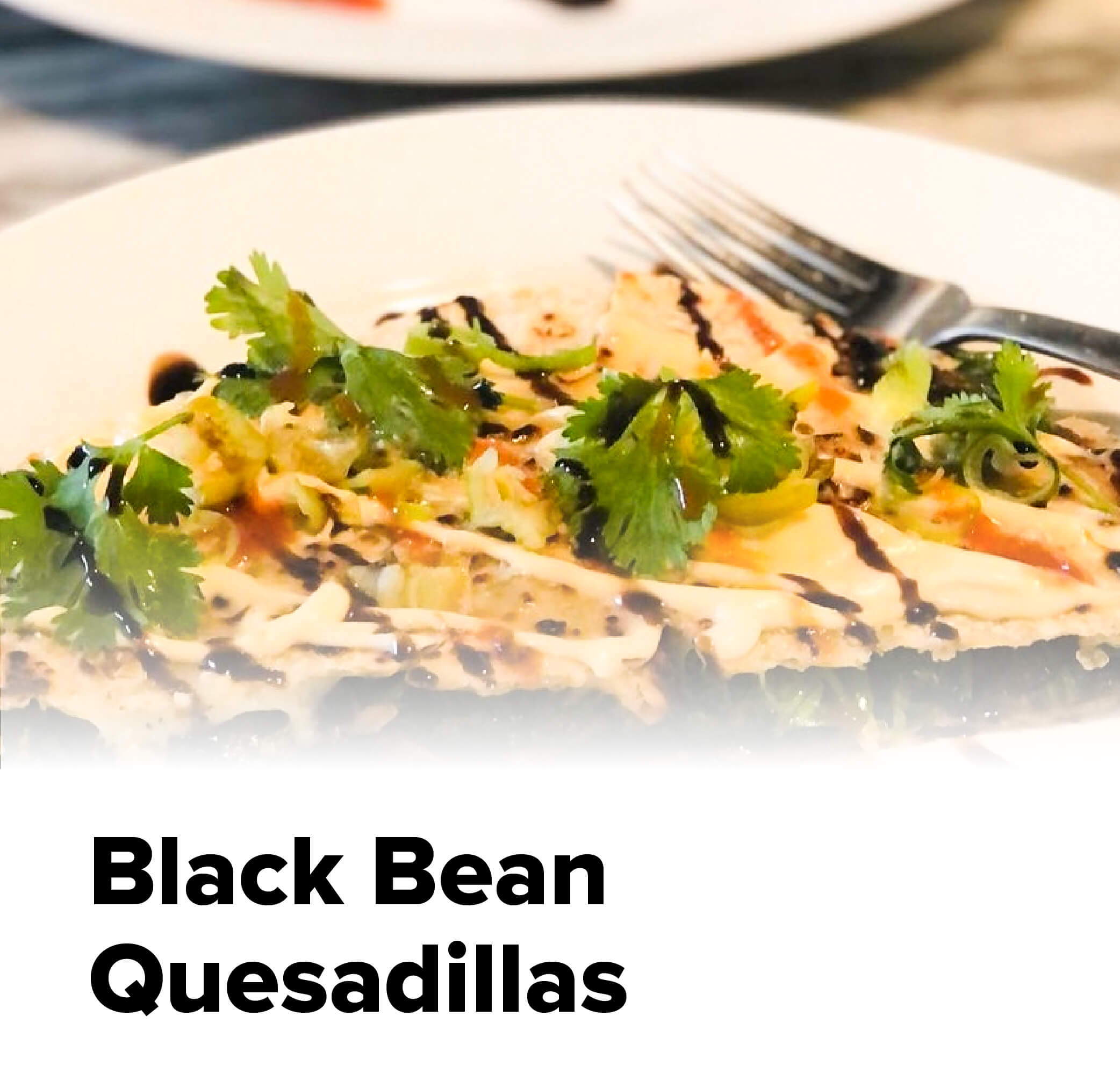 Ingredients:
1 - 15 oz. can of black beans
2 T olive oil
2 clove garlic, chopped
1/2 small onion, chopped
1 T lemon juice (about 1/2 a lemon)
1/3 C chopped cilantro
1 tsp cumin powder
1 tsp chili powder
1/4 cup jalapeños, sliced (can used canned or fresh)
tortillas
vegan yogurt to dip
Directions
Heat up a pan over medium heat with the 1 T olive oil and add the chopped onions, cumin powder, and chili powder. Cook til onions are tender.
Add in chopped garlic, stir for 1 minute.
Add the black beans, cook til hot, and put it in a bowl.
Add the cilantro and lemon juice, and mash it up roughly.
Wrinse your pan out, dry it, and put it back over medium heat with 1 T olive oil.
Add your tortilla to the hot pan, spread some black bean mix on top, a few jalapeño slices, and nutritional yeast. Close it up with another tortilla.
Pan fry onboth sides til browned. Enjoy with your favorite hot sauce and some vegan yogurt!
Should make two large quesadillas.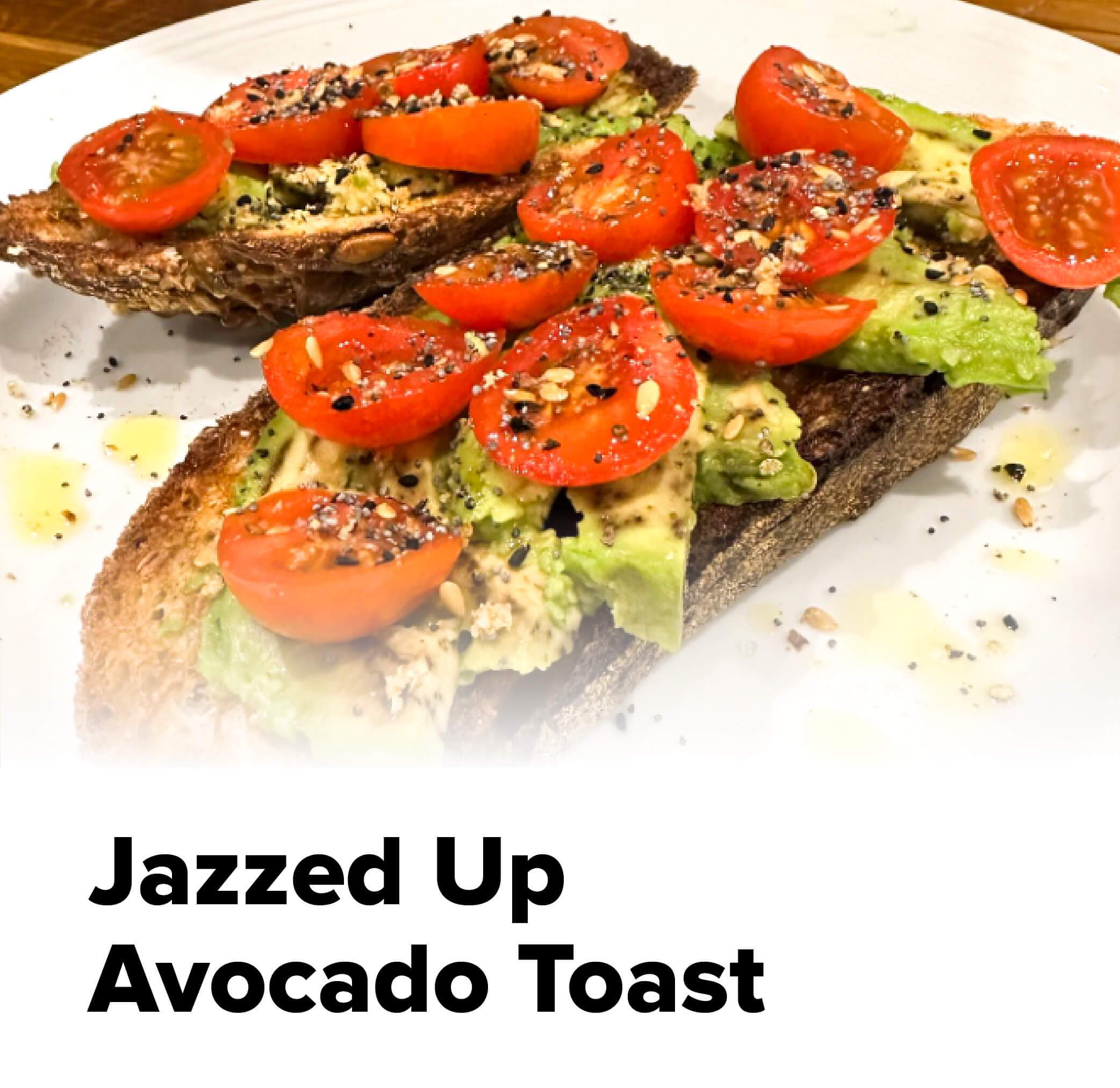 Ingredients:
1 avocado
2 slices of your favoirte bread
sliced tomatoes
1 tsp toasted sesame seeds
1 T tahini
salt and pepper to taste
Directions
Half your avocado, take out the pit, spoon out the good stuff, and mash it onto your bread slices.
Take your tomato slices and lay them on top, then sprinkle with toasted sesame seeds, salt, pepper, and a tahini drizzle.
Now, this is a very basic recipe that you can have fun with and play with the toppings as much or as little as you'd like. Here are a few topping suggestions to jazz up your avocado toast:
hemp seeds
chopped nuts
balsamic drizzle
siracha
nutritional yeast (the handy-dandy nooch)
salsa
tempeh (for some extra protein)
cooked beans (also great for protein)
Makes 1 serving.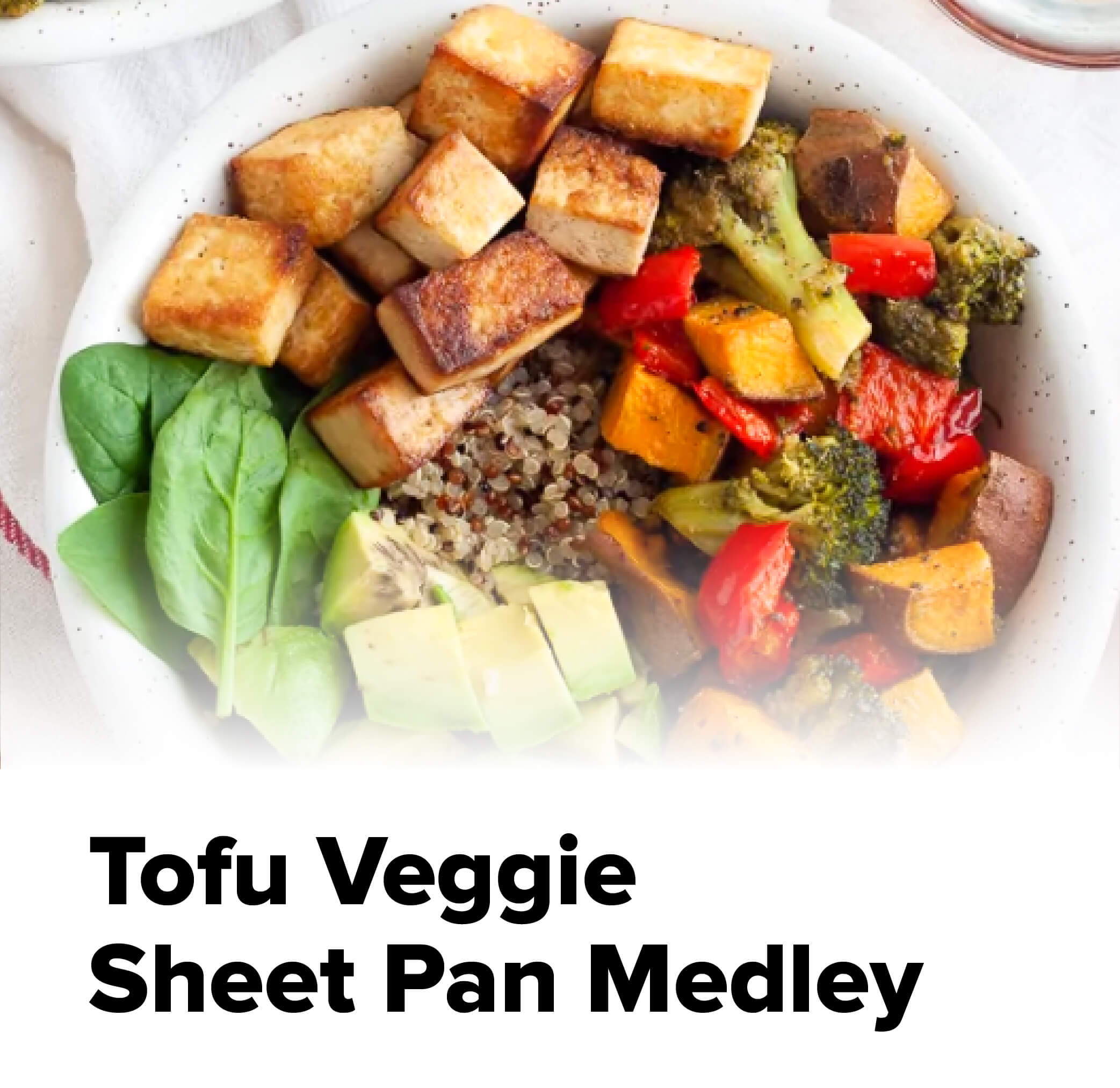 Ingredients:
For the sheet pan medley:
1 block firm tofu
2 bell peppers
2 sweet potatoes
2 crowns broccoli
3 T olive oil
1 T soy sauce (tamari/coconut aminos)
1 T balsamic vinegar
salt and pepper to taste
1/2 avocado, cubed
1 handfull greens of choice
For the quinoa:
Directions
For the sheet pan medley:
Set oven to roast at 400°F.
Gentley press the liquid out of the tofu with a kitchen towel or paper towels, then cut into bite size cubes.
Put the cubes in a bowl and add in the soy sauce and 1 T olive oil. Toss around gently until all tofu is coated, then add to sheet pan.
Cut the bell peppers, sweet potatoes, and broccoli into bite size pieces, add them into the bowl you used to season the tofu.
Add olive oil and a couple small pinches of salt and pepper, toss to coat.
Add veggies to sheet pan and make sure everything is spread out, then add to oven for 15 min.
Turn your pan at 15 min and roast for another 10 min, then remove it.
For the quinoa:
Combine the quinoa and water in a medium pot. Bring to a boil, cover, reduce the heat, and simmer for 15 minutes.
Remove from the heat and let it sit, covered for 10 more minutes.
Fluff with a fork.
Assemble:
Put some quinoa in your dinner bowl, add the handfull of greens, the avocado, and some of the roasted medley.
Drizzle with olive oil and balsamic vinegar, and it's ready to go.
Makes 3 servings.
Ingredients:
1/2 package rice noodles
1 portion of your Sheet Pan Medley leftovers
1/3 cucumber, sliced
1 tsp sesame oil
1 tsp soy sauce (tamari/coconut aminos)
1 T peanut butter (or any other nut butter)
2 T water
1/2 lime
1/2 small bunch of cilantro
2 T chopped peanuts (or any other nut)
Directions
Bring a small pot of water to a boil, add your rice noodles, cook according to package.
Drain your noodles into a colander, run under cold water, and drain.
Once all water has been drained, add the noodles to your bowl, add the Sheet Pan Medley leftovers and sliced cucumbers on top.
Combine the sesame oil, soy sauce, peanut butter, juice from 1/2 lime, and water in a small container, and stir to make a sauce.
Pour the sauce over your bowl, and garnish with chopped cilantro and peanuts. Mix all together and enjoy!
Makes 1 serving.
Ingredients:
4-5 cups of your favorite greens
1 portion of your Sheet Pan Medley leftovers
1/3 C quinoa
1/4 apple, sliced
1/4 C toasted pecans
2 T apple cider vinegar
2 T olive oil
1 T dijon mustard
2 tsp maple syrup
couple pinches of salt
pinch of pepper
Directions
Add your favorite greens to your dinner bowl (make sure they have been properly washed).
Add what's left of your Sheet Pan Medley leftotvers, 1/3 C of leftover quinoa, toasted walnuts, and apple slices.
In a small bowl, mix the olive oil, apple cider vinegar, dijon mustard, maple syrup, salt, and pepper to make your dressing.
Pour over your bowl, toss everything to combine, and maybe enjoy with a slice of your favorite bread.
Makes 1 serving.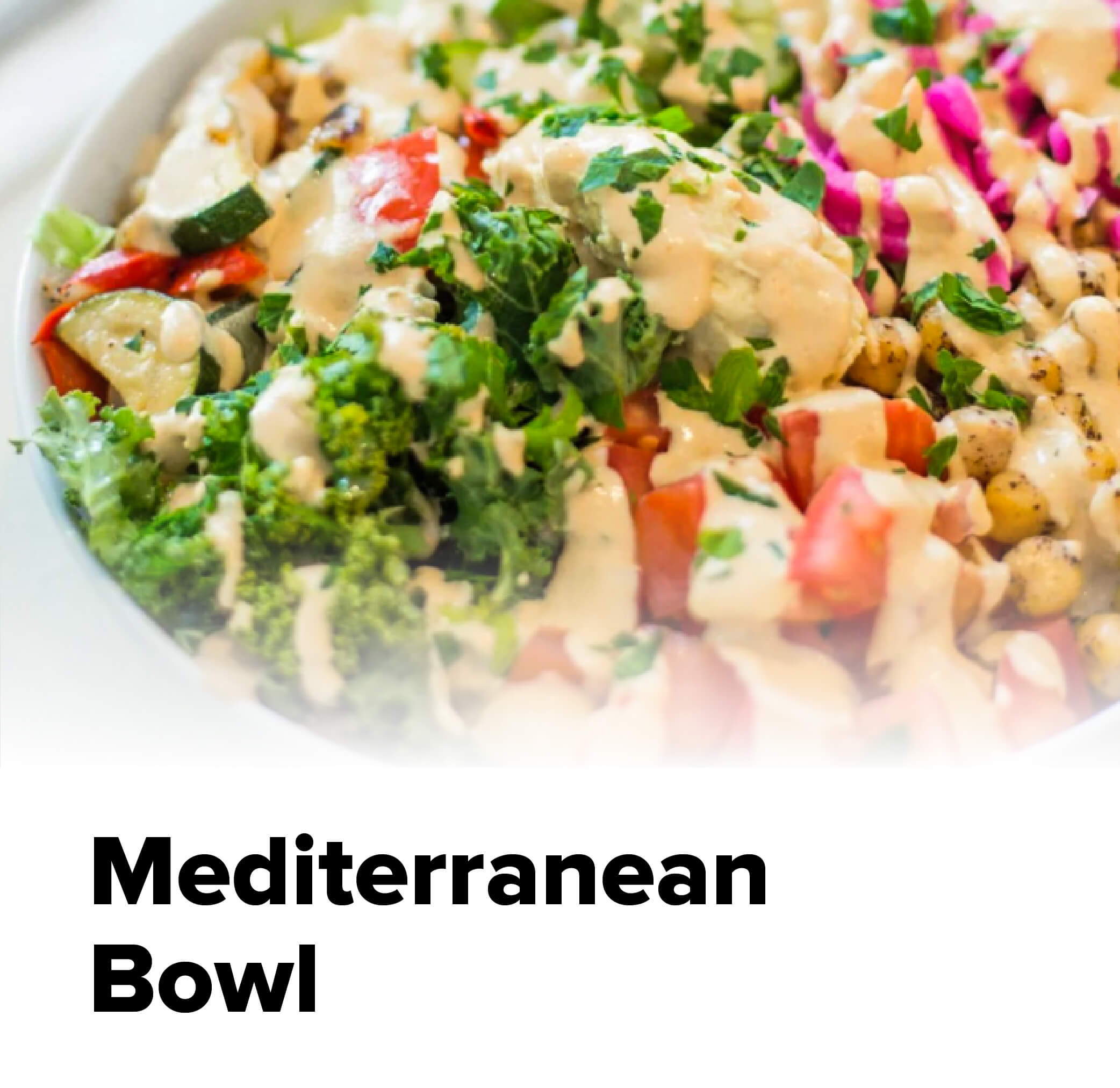 Ingredients:
1 C quinoa
1-2 C of your favorite greens
1/2 15 oz. can of chickpeas (about 1/2 C)
1/3 C chopped tomatoes
1/3 C chopped cucumber
1/3 C chopped curly parsley
1/3 C vegan yogurt
1 small clove garlic, grated
1 lemon, juiced
1/4 C tahini
1-2 T cold water
pinches of salt
pinch of pepper
Directions
Add the quinoa and your favorite greens to your bowl (make sure the greens have been properly washed).
Drain the canned chickpeas, wrinse, and add half of the can to a bowl. Add a pinch of salt, the cumin, and toss to coat. Add this over your quinoa and greens.
Add the chopped parsley, tomatoes, and cucumber to the bowl.
In a small separate container, mix the 1/3 C of vegan yogurt with the grated garlic and a salt to taste. Add this on top of your bowl.
In a small bowl combine the lemon juice, and tahini, and stir together (it will get thick). Slowly add the water as you stir, until you get to pouring consistency. Then add your salt and pepper to taste.
Finally, drizzle your tahini sauce over your bowl and it's done!
Makes 1 serving.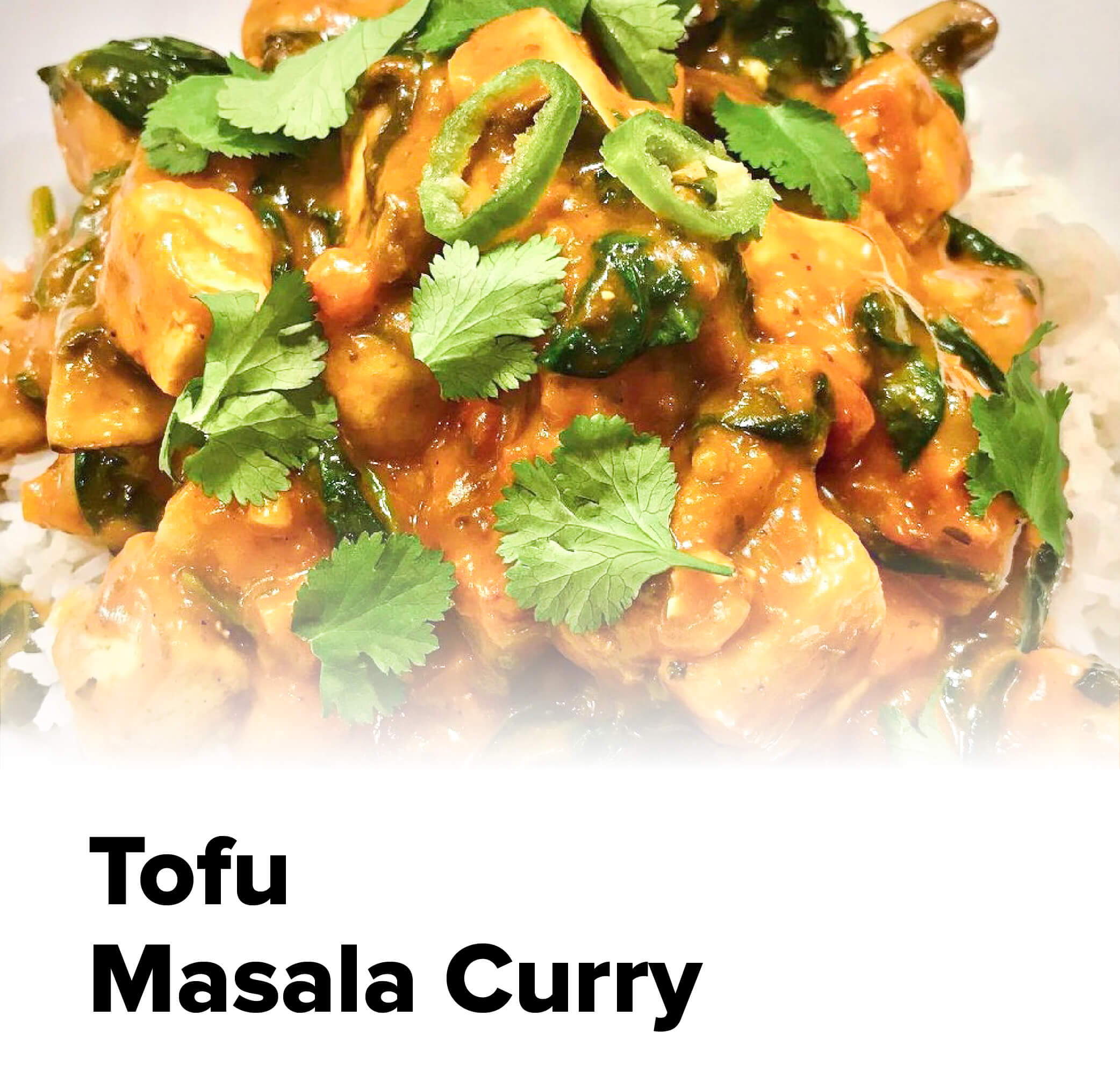 Ingredients:
1 package firm tofu
2 T olive oil
1/3 C chopped cilantro
3 C tomato sauce (plain canned, not seasoned with herbs)
1 1/2 tsp garam masala (or curry powder)
1/2 tsp cayenne pepper
1/3 C full fat coconut milk
1 T maple syrup
1 large clove garlic, grated
1/4 - 1/2 tsp salt
1 C brown rice or any other whole grain of choice
Directions
Set oven to roast at 400°F.
Cook your preferred grain (stove top, rice cooker, pressure cooker, or even pre-cooked/microwavable)
Drain and press the tofu, getting out as much moisture as possible, then cut into bite-size cubes.
In a bowl, toss the tofu cubes with 1 T olive oil and a pinch of salt, spread on a pan and roast in oven for 15 min.
While that's roasting, take a pan and put it over medium heat. Add in 1 T olive oil and the garam masala, stir together until fragrant (about 1 minute).
Add tomato sauce, grated garlic, maple syrup, cayenne, and stir frequently while simmering for a few minutes.
Add the coconut milk and stir over heat for a couple more minutes. Remove from heat and add salt to taste.
Serve over your cooked grain of choice, garnished with chopped cilantro.
Makes 2 servings.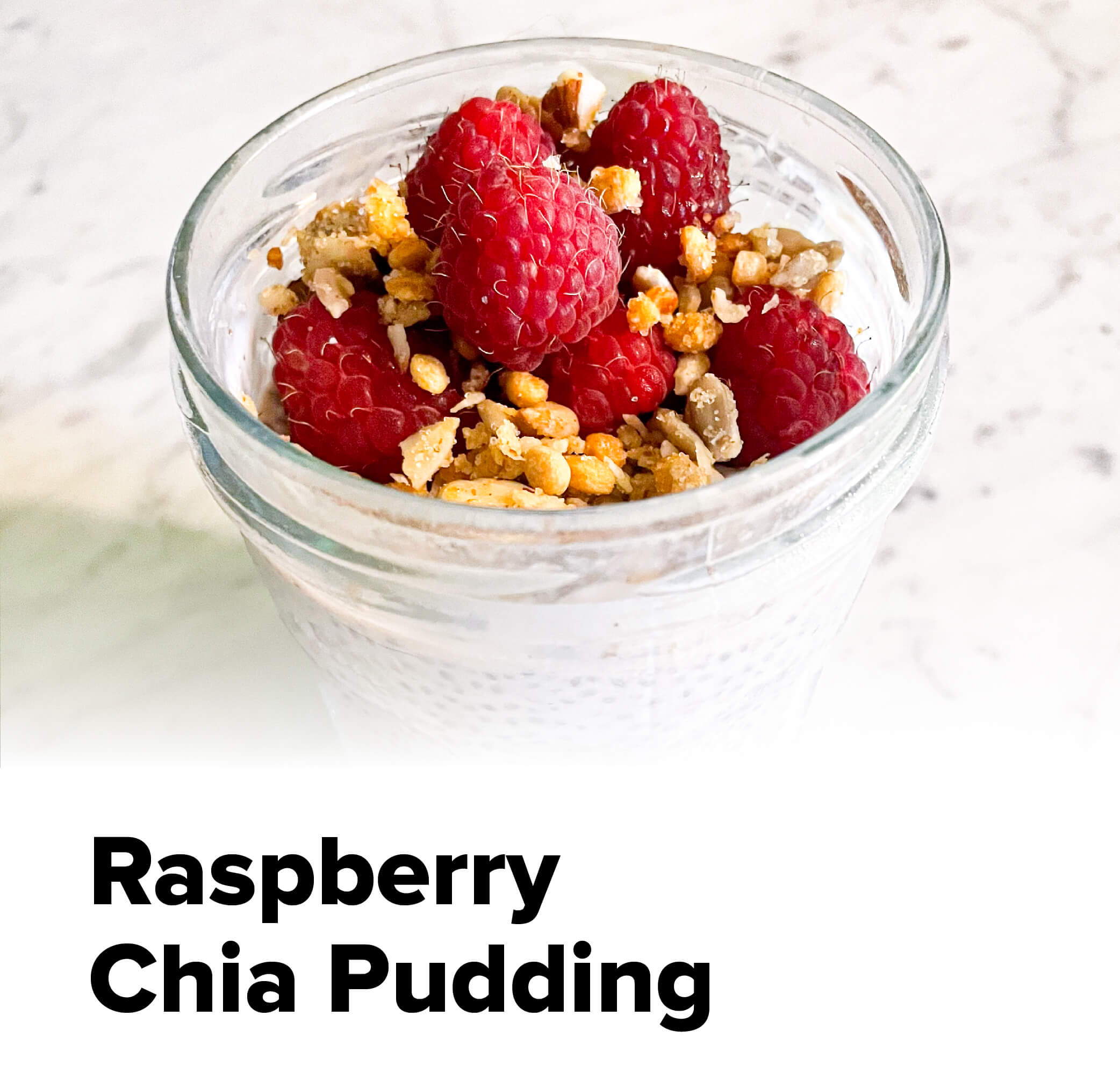 Ingredients:
1/4 C chia seeds
1/4 C raspberries
1 T maple syrup
1/2 C plant mylk
pinch of salt
1 serving protein powder (optional)
Directions
Combine all ingredients in a jar or bowl and mix or shake to combine.
Let it work it's magic overnight, and top with more fresh raspberries and some granola to serve.
Depending on whether or not you add protein powder and whether that protein powder is sweetened or not, you can leave out the maple syrup. Adding protien powder is a great way to make this breakfast more satiating and complete.
This is just a base recipe that you can play with and add whatever fruit, seasonings, or toppings you feel like.
Makes 1 serving.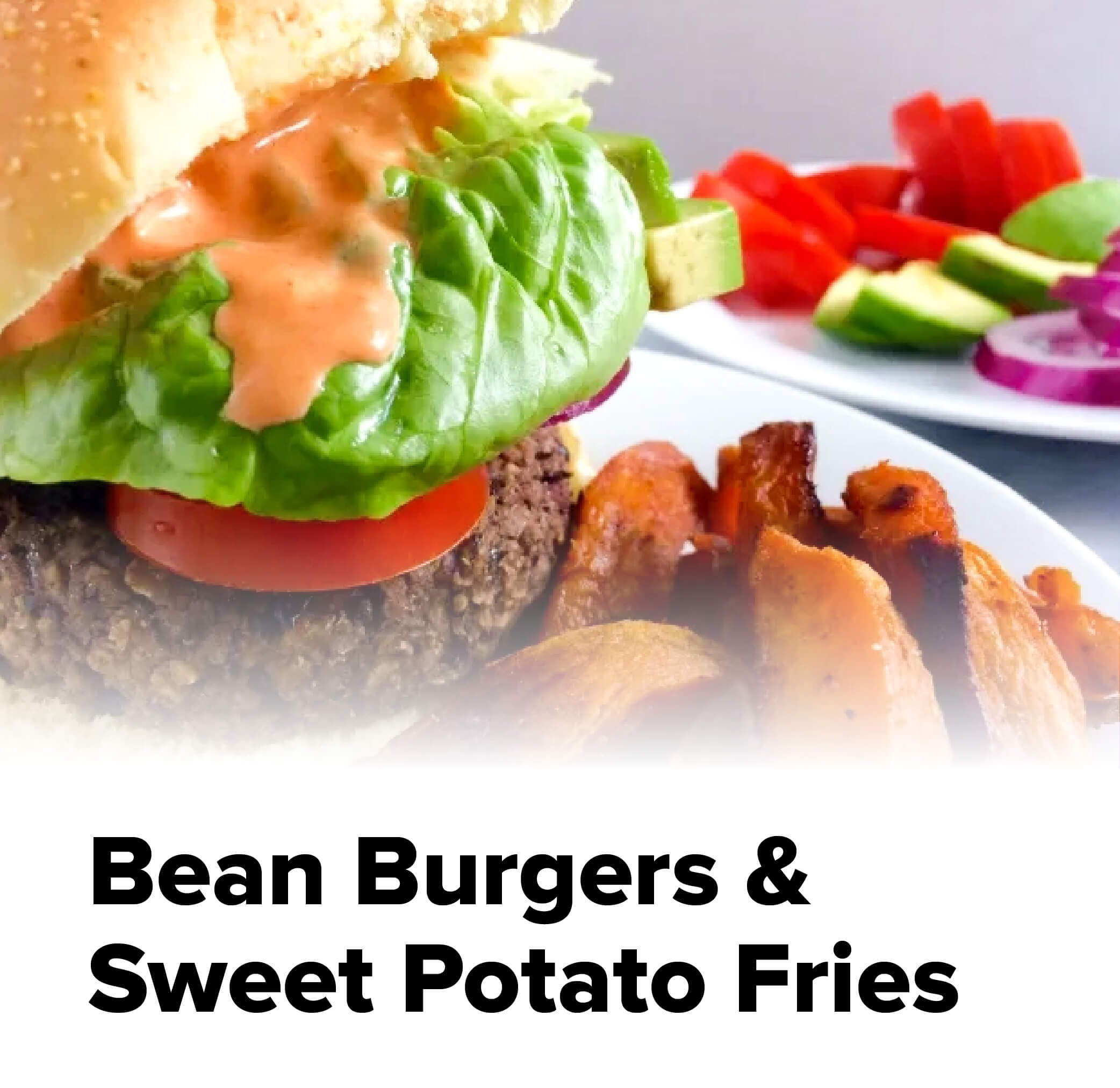 Ingredients:
For the baked sweet potato fries:
2 medium sweet potatoes
1 T olive oil
generous pinch of salt and pepper
1 tsp smoked paprika
For the burgers:
1 tbsp ground flaxseed + 3 tbsp water (can use ground chia seed)
1 - 14.5oz cans black beans, drained and rinsed
1/2 cup breadcrumbs
1 tsp onion powder
1 tsp garlic powder
1 tsp cumin
1 tsp chili powder
1 tsp smoked paprika
generous pinch of salt
pinch of black pepper
1 tbsp sriracha (or hot sauce of choice)
1 T olive oil
bun
burger fixings (whatever you like

–

vegan mayo, tomato, lettuce, onion, mustard, etc.)
Directions
For the baked sweet potato fries:
Preheat oven to 425°F.
Cut the sweet potatoes into long strips, toss them in a bowl with 1 T olive oil, a generous pinch of salt and pepper, and smoked paprika.
Bake on a greased pan for 15 min, carefully remove the pan and toss them around. Return to oven for another 10 minutes.
For the burgers:
Place flax and water in a small bowl. Set aside to thicken.
Place beans in a large bowl. Mash with a potato masher or fork until most beans are broken up, leaving some whole.
Add breadcrumbs, onion powder, garlic powder, cumin, chili powder, smoked paprika, salt, pepper, sriracha, and flax mixture. Stir until well combined.
Form into 2-3 tightly packed patties. You can refrigerate them until you are ready to cook or cook them right away.
Warm a skillet over medium heat with olive oil. Cook burgers for about 6 minutes per side, or until golden brown.
Build your burger and enjoy with a side of sweet potato fries.
Makes 2 large burgers, or 3 medium burgers.
Ingredients:
1 C oat flour (you can make your own by blending rolled oats until fine)
2 T protein powder
1/4 teaspoon salt
1 ½ teaspoons baking powder
3/4 cup plant mylk
2 T maple syrup (plus more for serving)
1/2 tsp cinnamon
1/2 apple, sliced
2 T chopoped pecans
Directions
Set oven to 420° F.
In a bowl, combine the plant mylk, maple syrup, and cinnamon.
Add the oat flour, protein powder, salt, and baking powder. Mix until fully incorporated. Stir in apple slices and chopped pecans (save some apple slices and pecans to place on top for a picture-worthy finish).
Let sit for about 15 minutes to hydrate the oat flour.
Pour out onto a 13" x 9" sheet pan. Decorate with saved apple slices and chopped pecans (if you kept some).
Bake for about 12-15 minutes, until a toothpick comes out clean.
Let cool slightly, then cut to serve.
Enjoy with some more fruit on top, a dollop of vegan yogurt, and a drizzle of maple syrup.
Makes about 2 servings.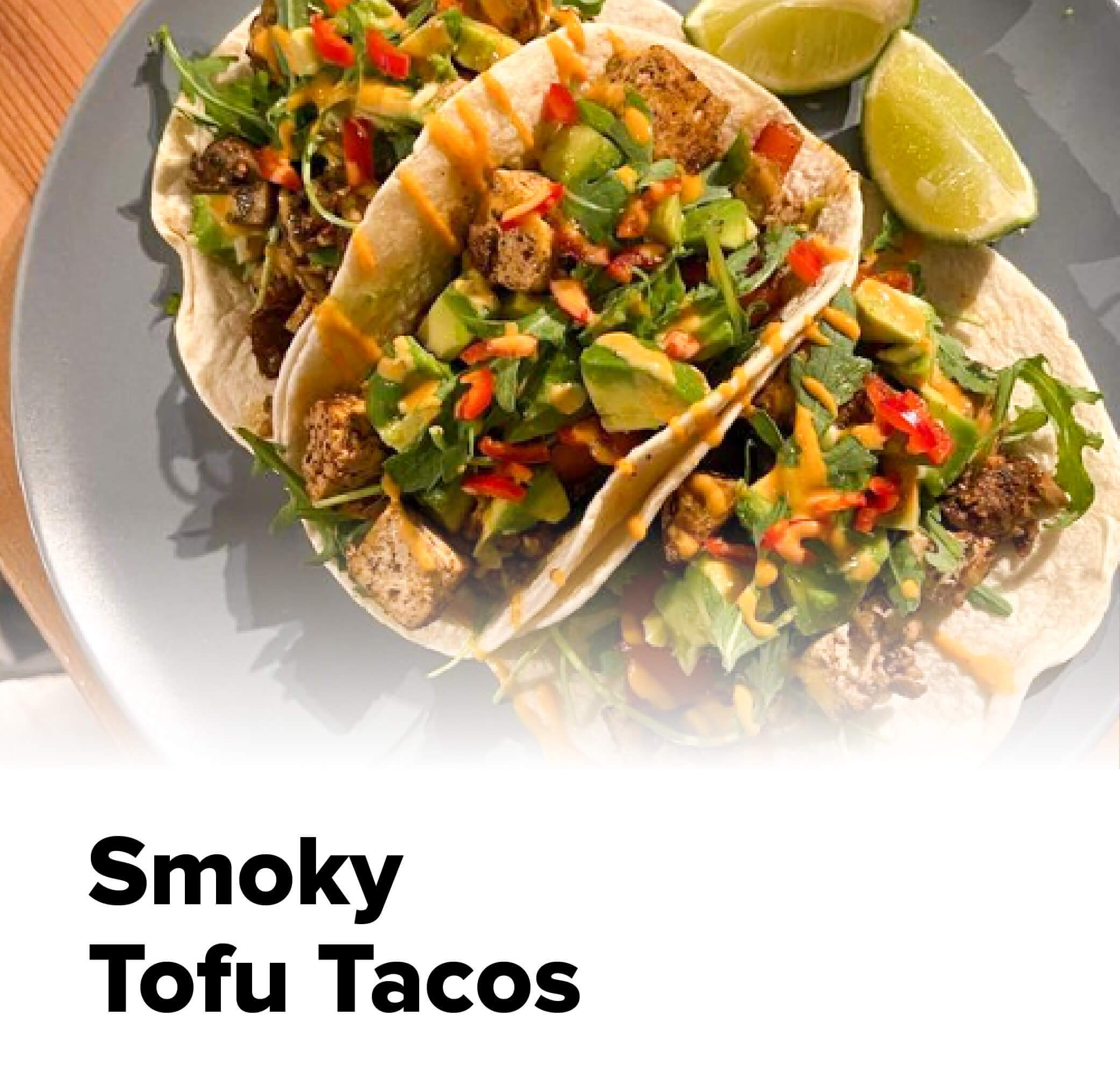 Ingredients:
1 block firm tofu
2 tablespoons soy sauce
1 tablespoon apple cider vinegar
¼ teaspoon kosher salt
1 teaspoon garlic powder
1 teaspoon chili powder
1 teaspoon cumin
2 teaspoons smoked paprika
3 tablespoons olive oil, divided
For taco toppings:
tortillas
1 C greens of choice
1 lime, cut into wedges
1/3 C fresh cilantro, chopped
vegan yogurt
hot sauce or taco sauce of choice
Directions
Drain the tofu , then pat the tofu dry with a towel. Place the tofu in a large bowl and use your fingers to break the tofu into roughly bite-sized crumbles.
Stir in the soy sauce, vinegar, salt, garlic powder, chili powder, cumin, smoked paprika, and 2 tablespoons of the olive oil.
Heat the remaining 1 tablespoon olive oil in pan. Add the tofu and cook on medium high for 8 to 10 minutes, breaking up large pieces into bite sized chunks and stirring occasionally, until browned and lightly crispy and the liquid evaporates.
Spritz greens with the juice of 2 lime wedges and add a few pinches kosher salt. Mix the vegan yogurt with hot sauce to taste, and add a few pinches of salt.
Place the tofu crumbles in the tortillas, then top with toppings and enjoy.
Makes 2-3 servings.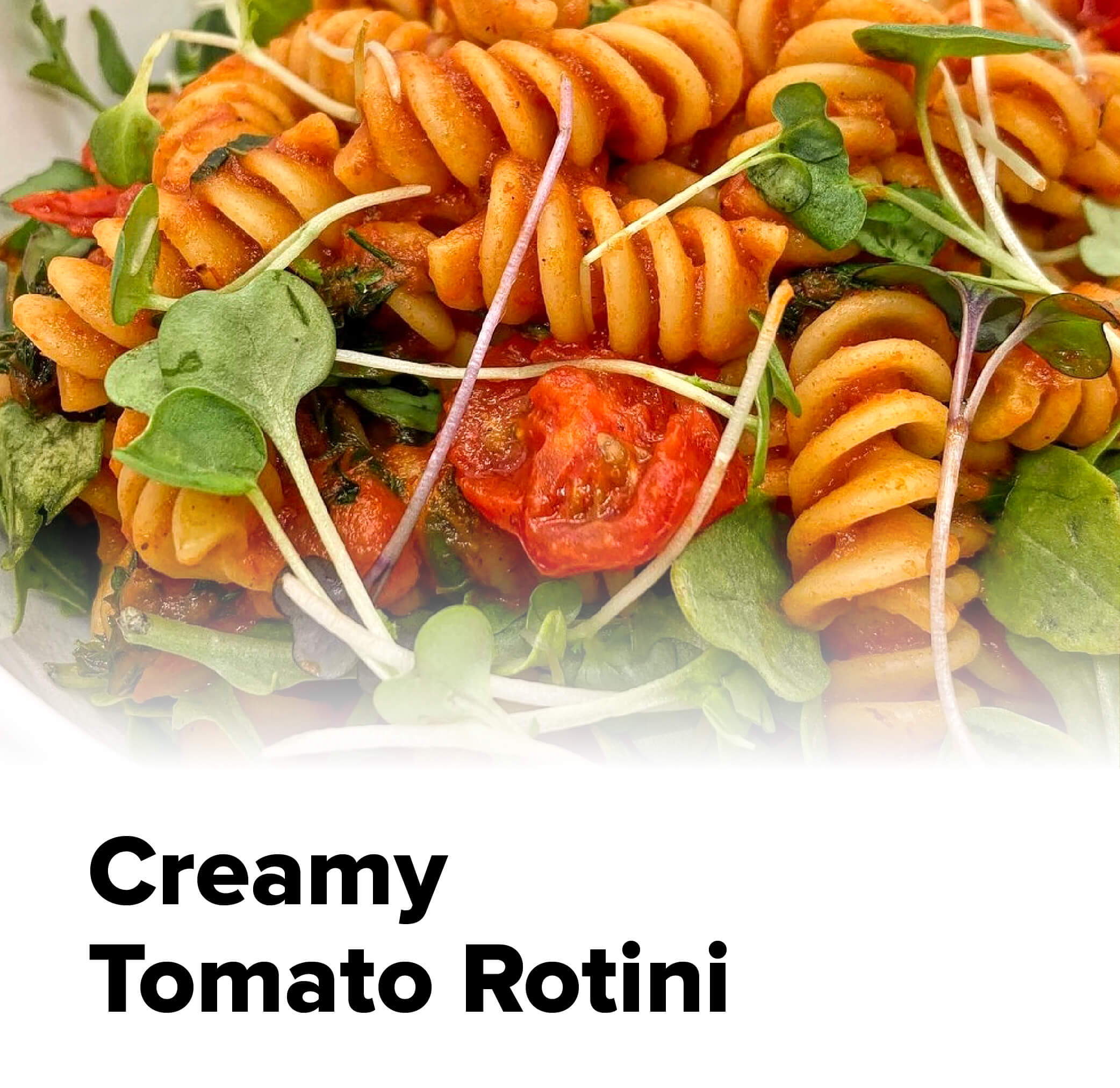 Ingredients:
1/2 box (8 oz.) of dry rotini bean pasta (pasta made from bean flour)
1 T olive oil
2 cloves garlic minced
2 T tomato paste
1 C plant mylk
2 T nutritional yeast
1 T cornstarch diluted in 2 T room temp. water
1/2 tsp salt
pinch of pepper
1/3 C fresh tomatoes, chopped
handfull of greens
fresh basil for garnish
Directions
Boil bean pasta according to package, drain, and set aside.
Heat 1 T of olive oil in a sauce pan over medium heat and add in the minced garlic.
Once the garlic is fragrant, add in the tomato paste and stir for a few minutes.
Add in the plant mylk and nutritional yeast, then bring to a simmer.
Stir together the cornstarch and water, making sure none is stuck at the bottom. Add to the pot and stir vigorously until thickened.
Add salt and pepper, taste, add more if needed.
Add in the pasta, the spinach, and the chopped tomatoes, mix it up, and serve with basil garnish. Top with some more nutritional yeast.
Using bean flour pasta for this dish adds a hefty amount of protein to make this a complete and balanced meal. And don't worry, it doesn't taste like beans.
Makes 2 servings as a main dish.

So You Finished the Meal Plan, Now What?
First off, congratulations are in order!  
With this experience under your (vegan leather) belt, you can now confidently move into creating your very own meal plan.
Feel free to really make it your own, either building something very concrete like what we have, or simply a loose outline to guide you through the week. Going throught the motions with the process will lead to adopting these healthy habits into your life for the long-run.
You can follow the exact tips we used to design our plant-based meal plan.
Registered Dietitian, Amanda Wagner's Amazing Meal Planning Tips:
Plan out what you want to eat for the week.
Do you like to have certain meals every week? i.e. taco Tuesday or pizza Fridays? Start there!
Check cookbooks you already own & social media (i.e. Instagram and Pinterest) for inspiration. Our website is also full of simple and nourishing recipes that you can use.
This would also be a good time to decide on how you want your meal planning to look. Do you prefer to cook from scratch each day or would you prefer to prepare what you need before the week starts?
2. Balance your meals.
Making your meals as nutritionally balanced as possible will help you stay full, work toward your health goals, and feel energized. Make sure all of your meals have a protein source, veggies, a healthy fat source, and wholesome carbohydrate source.
A good goal to aim for per meal is around 500 calories (active people may have higher needs), around 20 grams of protein, less than 3 grams of saturated fat, around 15 grams of healthy fats, 80 grams of carbohydrates (active people may have higher needs), and at least 5 grams of fiber. Also, if you salt your food, ideally use iodized salt, since iodine is a nutrient many plant-based people fall short on.  
3. Use what you've got.
Check your pantry, refrigerator, and freezer to see what ingredients you already have when planning your meals, and do not be afraid to use those staples in your meal plan.
4. Snack smart.
Consider your snacks for the week and try to pick the ones that will both satisfy your snacking desires as well as keep you on track with your healthy plan.
5. Plan ahead.
It's easier to stick to a budget and a plan if you write out your shopping list ahead of time. I personally use the notes app on my iPhone, but an old fashioned pen and paper list works great too.
6. Don't forget to bring your list to the grocery store!
Focus on what's going to be convenient and best for your lifestyle. Frozen fruits and vegetables are frozen at the peak of freshness and can be just as nutritious as their fresh counterparts and easier on your budget!
Don't be afraid to have a few quick options for those "I need healthy food, but cannot fathom cooking right now" days or nights. If buying a pre-made or frozen plant-based meal, make sure you check the nutrition facts. Aim for a meal that has less than 500 mg of sodium, less than 5 g of saturated fat (the lower the better), no trans-fat, and ideally includes some fiber. You can always add a salad or saute some veggies to make your frozen meal more colorful and well-rounded.
7. Get prepping. 
Assemble any ingredients you can ahead of time if you are cooking daily. This includes snacks.
If you are batch cooking, I recommend freezing your portions beyond days 3 or 4 for food safety and freshness.
Even if you aren't super excited about batch cooking, you could at least consider single items to make ahead of time like cooked grains to store in the freezer, breakfasts, or snacks.