Plant-Based Recipe:
Maple-Infused Pocket Waffles
When it comes to feeding an athlete, we need fuel that's healthy, easy to transport, and packed with nutrients.
I'm no different. I'm a plant-based pro cyclist and endurance coach, and the other day I found myself in a bind when I discovered that I had no good snacks for my next ride.
So I broke out the waffle iron...
After a little trial and error, I landed on a plant-based "pocket waffle" that not only utilizes healthy sources of carbohydrates, but also contains a hit of protein from Complement Protein.
Crispy on the outside and fluffy on the inside, these Maple-Infused Pocket Waffles provide lasting fuel for workouts and adventures.
The recipe yields around 10 pocket-sized waffles, each with 118 calories, 26 grams of carbohydrate, 2 grams of protein, and 1 gram of fat. They have great flavor…and they just so happen to fit inside a jersey pocket!
Warning: you may have to fight your kids for them.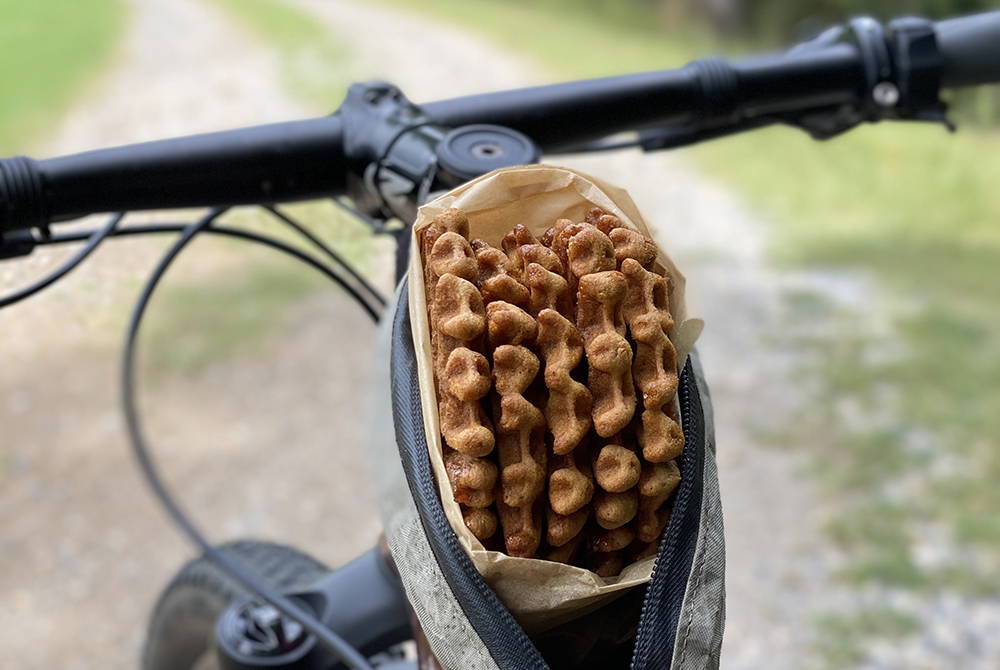 Ingredients:
"Flax Egg"
1 T. flax meal
1 T. water
Sour Milk
1/2 c. almond milk, unsweetened
1 T. distilled vinegar
Dry Ingredients
1 c. flour
1 t. baking soda
1 t. baking powder
2 T. Complement protein powder
Wet Ingredients
3/4 c. maple syrup
1 t. vanilla extract
2 T. maple syrup for one last drizzle

Instructions:
Turn on your waffle iron. If it has heat settings, turn to medium high.
Mix the first two ingredients together to make your "flax egg". Set that aside to gel.
Mix the almond milk with the distilled vinegar and set aside to sour.
Whisk together the dry ingredients in a medium-sized mixing bowl.
Combine the maple syrup with the vanilla, then add the flax egg and sour milk to the maple syrup mix — stir all the wet ingredients together.
Add the wet ingredient mixture to the dry ingredients and whisk together until smooth.
Feel free to make full-sized waffles if you'd rather, but if you're looking for small-sized discs for fuel on-the-go, add few tablespoons of batter to the center of your waffle iron. This should yield around 10 palm-sized servings. Waffles will be slightly "bendable" when they come off the waffle iron. Not to worry…we're about to fix that.
While you're waiting on each waffle to finish, preheat your oven to 375 and begin laying your finished pocket-waffles on a baking sheet lined with parchment paper.
When all the waffles have come off of the waffle iron and are laid out on the baking sheet, then add one last drizzle of maple syrup over the top. Pop them in the oven for about 10-15 minutes.
The waffles turn crispy as they cool to room temperature. Once cooled, individually wrap the waffles in foil, and then be sure to transport them cool places like trail heads and mountain tops!
Any extra waffles can be stored in the fridge for 3-4 days, or you can wrap and freeze them for up to a month. When you're ready to use them, just pop a waffle into your toaster to restore crispiness.
About Scotti Lechuga: Scotti races bikes, eats a lot of plants, and lives full-time in an RV with her family! Scotti and her husband, Ernie both have competitive backgrounds in UCI pro road cycling, but have more recently ventured into ultra-endurance sport. The husband-wife team won the Silk Road Mountain Race pairs division in 2019. Their coaching company, Leborne Coaching was founded in 2010, and they have led athletes around the world to personal success. Connect with Scotti on Instagram or contact her via her plant-based food blog, Pedaler's Plate.