Plant-Based Recipe:
Simple, Ugly, Vegan Curry

We have a pretty food problem.
Instagram, blogs, newsletters...
They're covered in plates of colorful, vibrant food, leaving you with the impression that this is the only way to eat a healthy plant-based diet.
And sure, "eat the rainbow," is a good goal to have, but let's face it...
Most of us don't have time to cook colorful dishes every night.
And the quick and easy dishes — a simple pasta, slow cooker stews, and even healthy smoothies — are often a single color (brown-ish).
So today we're leaning into the monotone with an "ugly" dish that's so easy and healthy, it deserves an immediate spot in your regular recipe rotation.
Simple, ugly, vegan curry.
While it may not look like the rainbow, this quick curry recipe from Julia Murray is packed with an array of healthy, nutrient-rich ingredients.
It even calls for a 1/4 cup of flavorless Complement Protein to thicken the curry and add an extra boost of complete protein.
But the best part? It only takes about 10 minutes to prep!
Check out the recipe, here: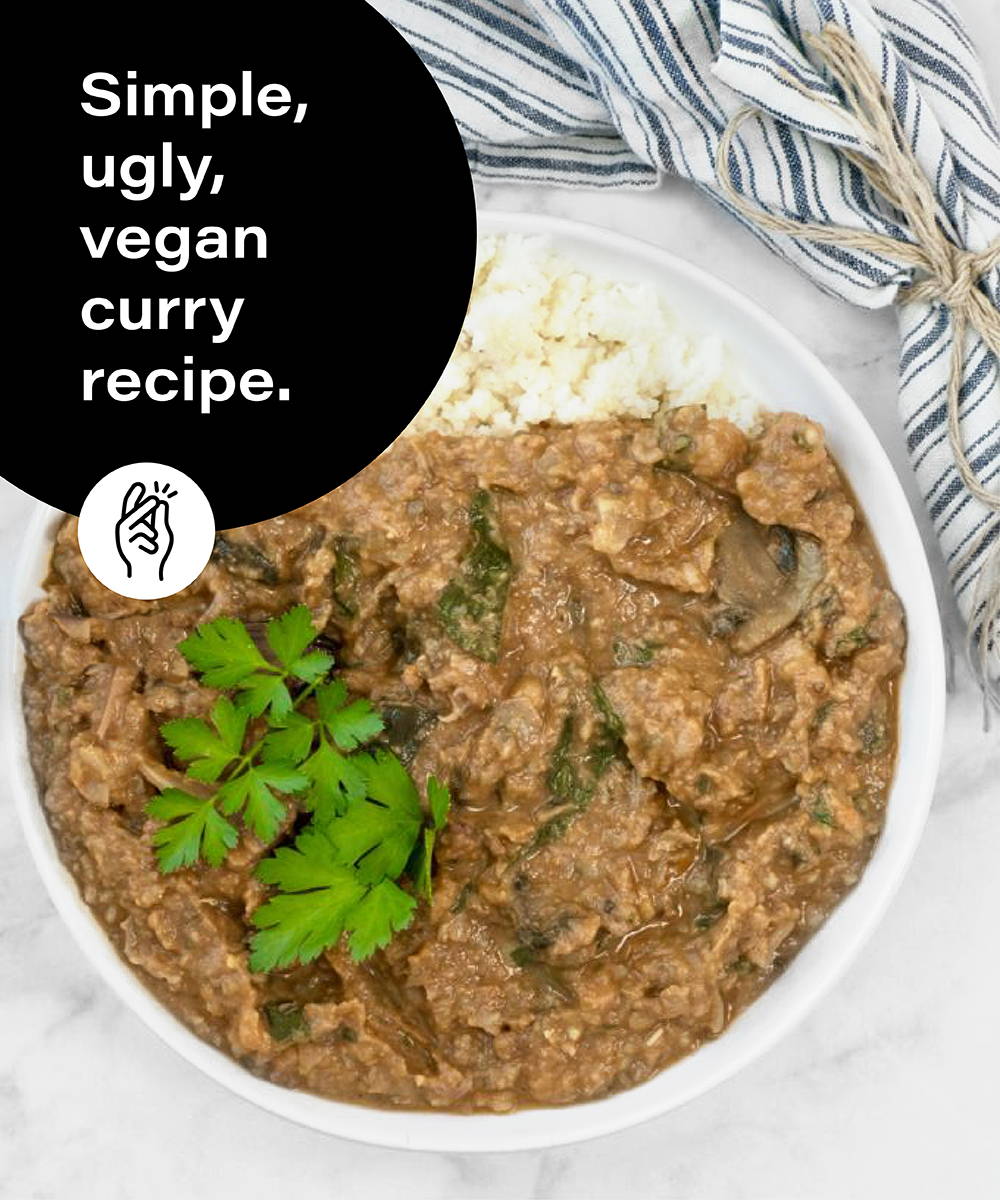 Ingredients:
1 large sweet or yellow onion, chopped
3 cloves garlic, minced
6-8 white or brown mushrooms, sliced
1-2 jars of red or green curry paste (112 gram jars)
1 small can coconut milk (200mL)
1 veggie boullion cube
1/4 cup Complement Protein
2 medium-large sweet potatoes, chopped
1 large eggplant, chopped
1 cauliflower, chopped
2 leave kale or 2 handfuls spinach, thinly sliced
1-2 tbsp peanuts (for topping)
3-4 sprigs fresh cilantro (for garnish)
Directions:
Bring pot to medium heat, then add onions, mushrooms and garlic. Let sauté, and add a bit of water to de-glaze the bottom of the pot.
After 5 minutes, add the curry paste, coconut milk, bouillon cube and a cup of water. Stir until mixed evenly.
Add the sweet potatoes, eggplant, and Complement Protein. Add water until the veggies are just covered.
Bring to a boil, and then turn down to simmer for 30 minutes.
Add in the cauliflower and greens. Let simmer another 5 minutes.
To serve, lay down some pre-cooked brown rice or any other grain (or not), add curry, and top with peanuts and cilantro!