Burgers are always something you can get excited about. There's something about eating them that just feels like a special treat. Well, this special treat is completely plant-based and packed with healthy bean-powered protein. Enjoy with all of your favorite burger fixings and some crispy baked sweet potato fries on the side.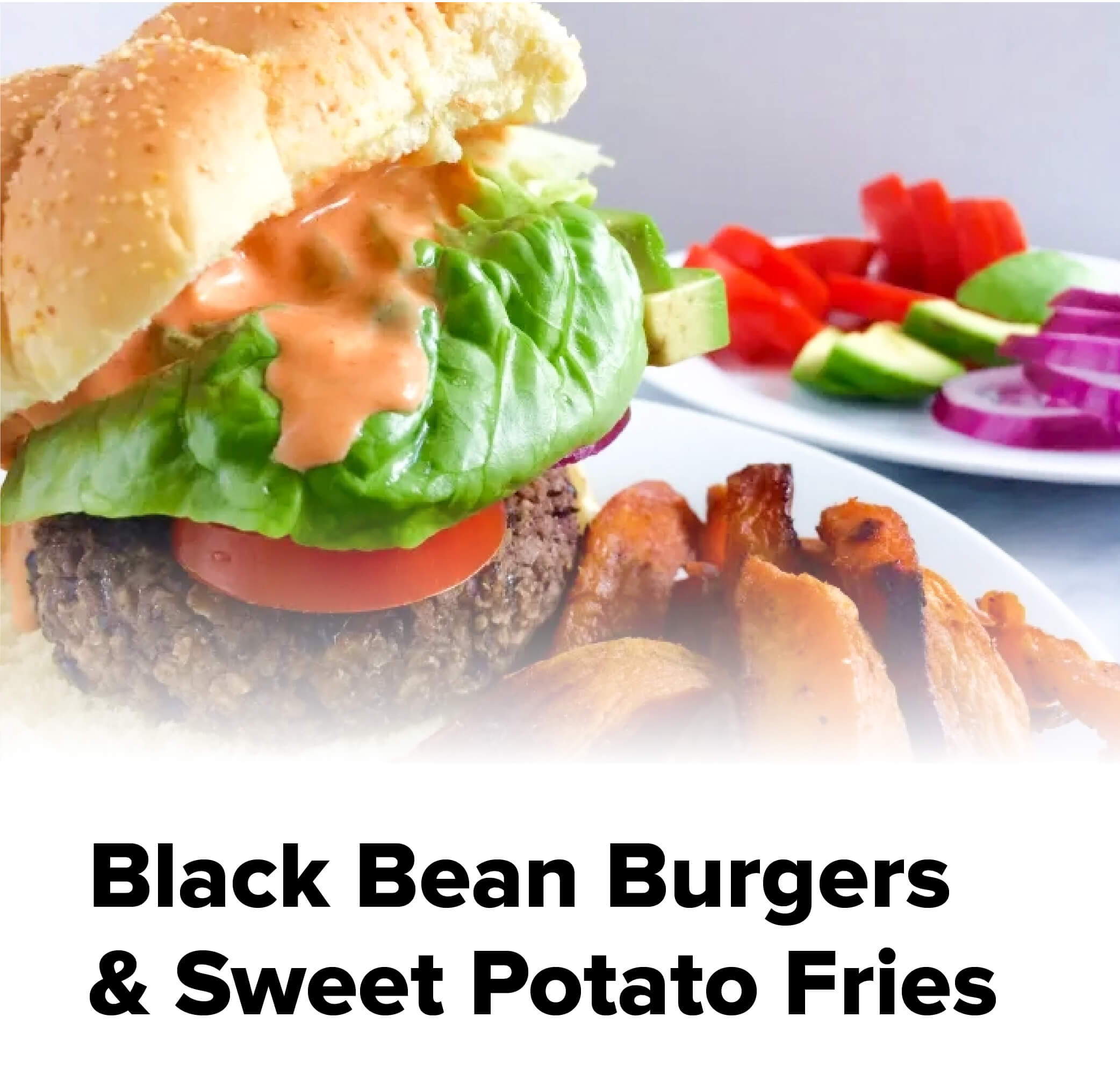 Ingredients:
For the baked sweet potato fries:
2 medium sweet potatoes
1 T olive oil
generous pinch of salt and pepper
1 tsp smoked paprika
For the burgers:
1 tbsp ground flaxseed + 3 tbsp water (can use ground chia seed)
1 - 14.5oz cans black beans, drained and rinsed
1/2 cup breadcrumbs
1 tsp onion powder
1 tsp garlic powder
1 tsp cumin
1 tsp chili powder
1 tsp smoked paprika
generous pinch of salt
pinch of black pepper
1 tbsp sriracha (or hot sauce of choice)
1 T olive oil
bun
burger fixings (whatever you like – vegan mayo, tomato, lettuce, onion, mustard, etc.)
Directions
For the baked sweet potato fries:
Preheat oven to 425°F.
Cut the sweet potatoes into long strips, toss them in a bowl with 1 T olive oil, a generous pinch of salt and pepper, and smoked paprika.
Bake on a greased pan for 15 min, carefully remove the pan and toss them around. Return to oven for another 10 minutes.
For the burgers:
Place flax and water in a small bowl. Set aside to thicken.
Place beans in a large bowl. Mash with a potato masher or fork until most beans are broken up, leaving some whole.
Add breadcrumbs, onion powder, garlic powder, cumin, chili powder, smoked paprika, salt, pepper, sriracha, and flax mixture. Stir until well combined.
Form into 2-3 tightly packed patties. You can refrigerate them until you are ready to cook or cook them right away.
Warm a skillet over medium heat with olive oil. Cook burgers for about 6 minutes per side, or until golden brown.
Build your burger and enjoy with a side of sweet potato fries.
Makes 2 large burgers, or 3 medium burgers.