Buy 1 Product = Feed 1 Kid in Need a Plant-Based Meal
Gut Nurture. Prebiotic and postbiotic blend to support a healthy gut microbiome.
A science-backed blend of prebiotics and postbiotics, enhanced with pre-fermented vitamins and ginger root to support digestion, nutrient absorption, energy, and immune health.*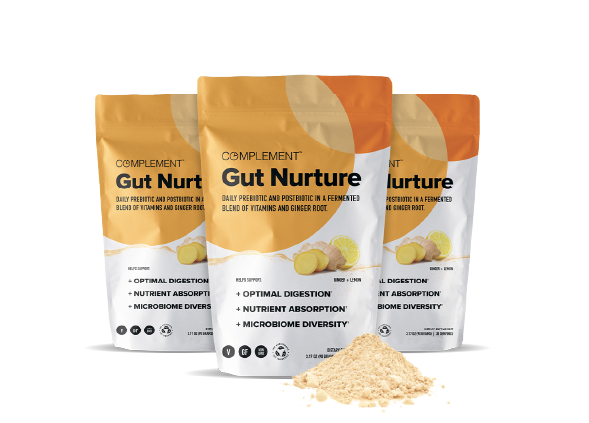 GET 3 POUCHES
3x 30-day supply
Stock up on the prebiotic + postbiotic blend for optimal gut and whole-body health.*
$174.00

$147.90


YOU SAVE $26.10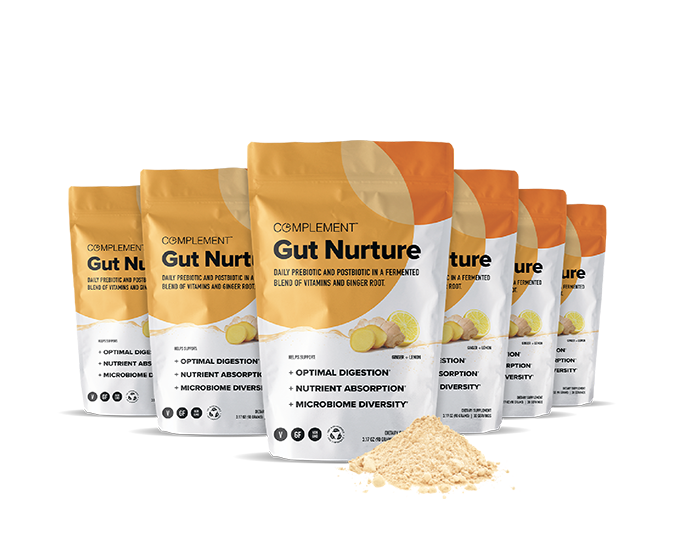 GET 6 POUCHES
6x 30-day supply
Stock up on the prebiotic + postbiotic blend for optimal gut and whole-body health.*
$348.00

$295.80


YOU SAVE $52.20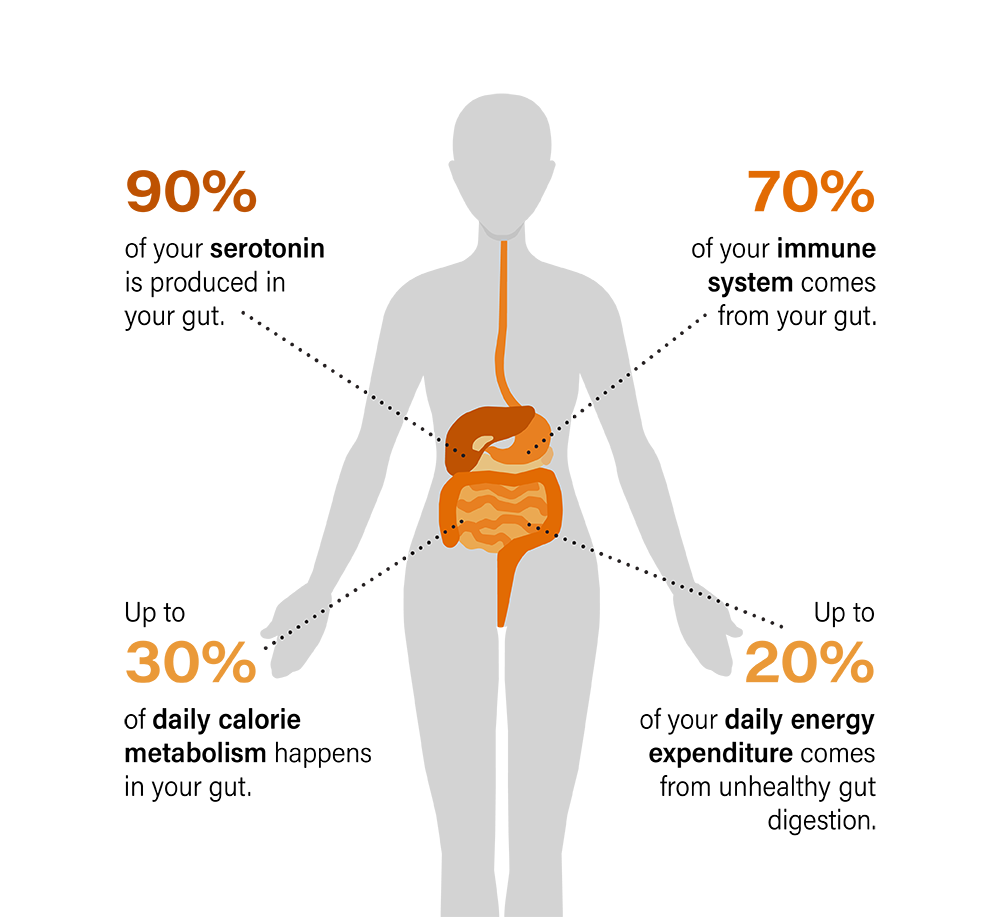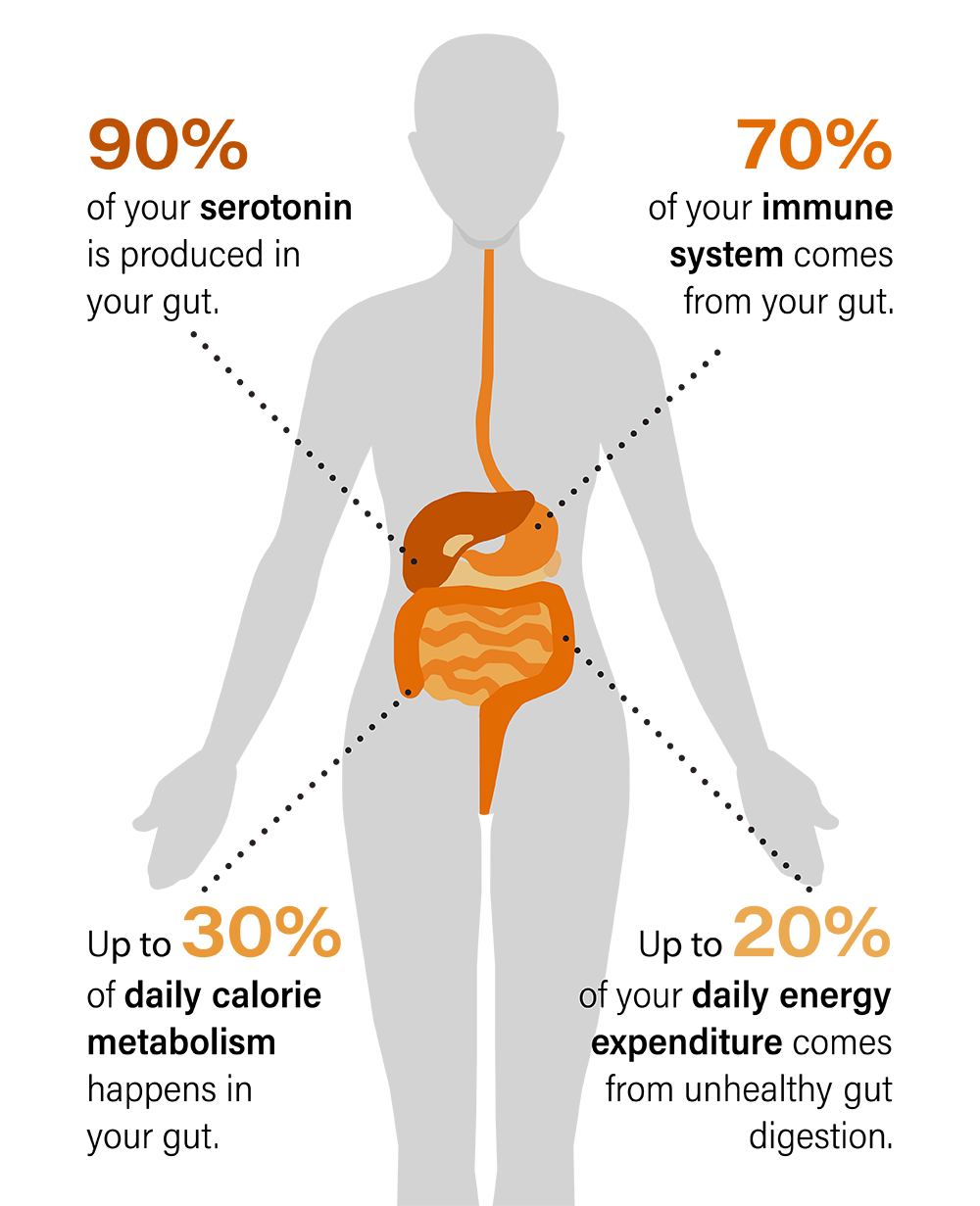 70% of your immune system comes from your gut.
But that's not all — your gut also produces nearly all of your serotonin, expends up to 20% of your energy through digestion, regulates your metabolism, and so much more.*
Research shows that the gut is so core to different aspects of your health, that oftentimes the solution to a seemingly unrelated ailment can be found simply by improving gut health.
So whether you're suffering from mood, energy, immune system issues, or if you're simply experiencing digestive discomfort, prioritizing your gut health can yield major improvements.*
A fiber-rich plant-based diet provides a powerful foundation to gut health, but as with any aspect of health, regular attention and maintenance support healthy gut microbiota to keep your body feeling and performing its best.
For years, the go-to approach for gut support was a probiotic supplement, but the latest science highlights overwhelming concerns about the effectiveness of a general probiotic...
Probiotics: Health-promoting or a waste of money?

Adding a probiotic is the same as an alien bacterial strain to your gut microbiome, and studies show that the benefits of taking non-specific probiotics can wear off in as little as 3 weeks.*
While popular gut health products haven't caught on, research now points towards prebiotic fibers and postbiotics — the beneficial end products of probiotics — as an effective aid to the high-fiber plant foods already in your diet.*
Gut Nurture's innovative formula combines pre and postbiotics with health-promoting pre-fermented vitamins, plus ginger root and herbs to support powerful, whole-body health.*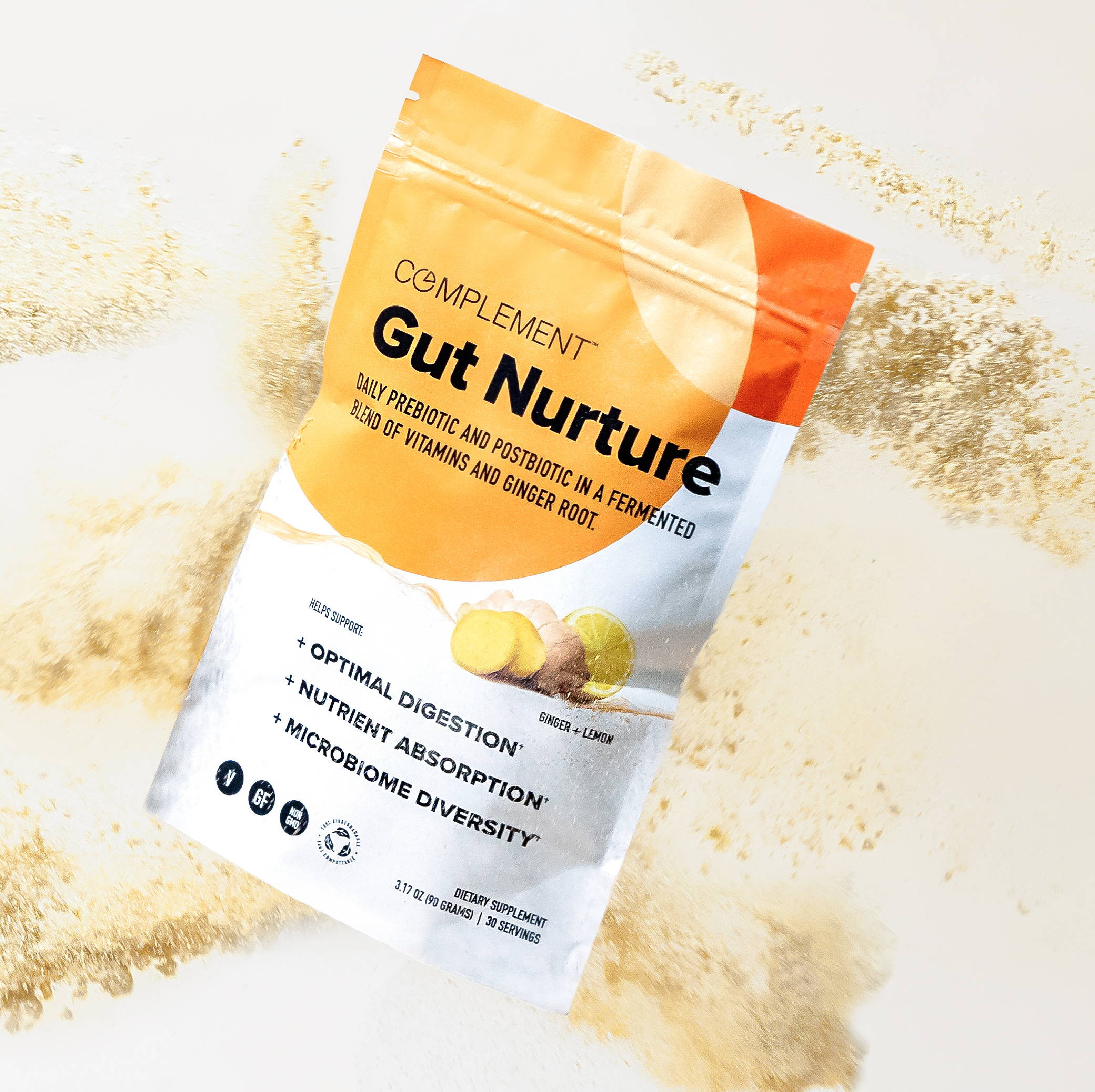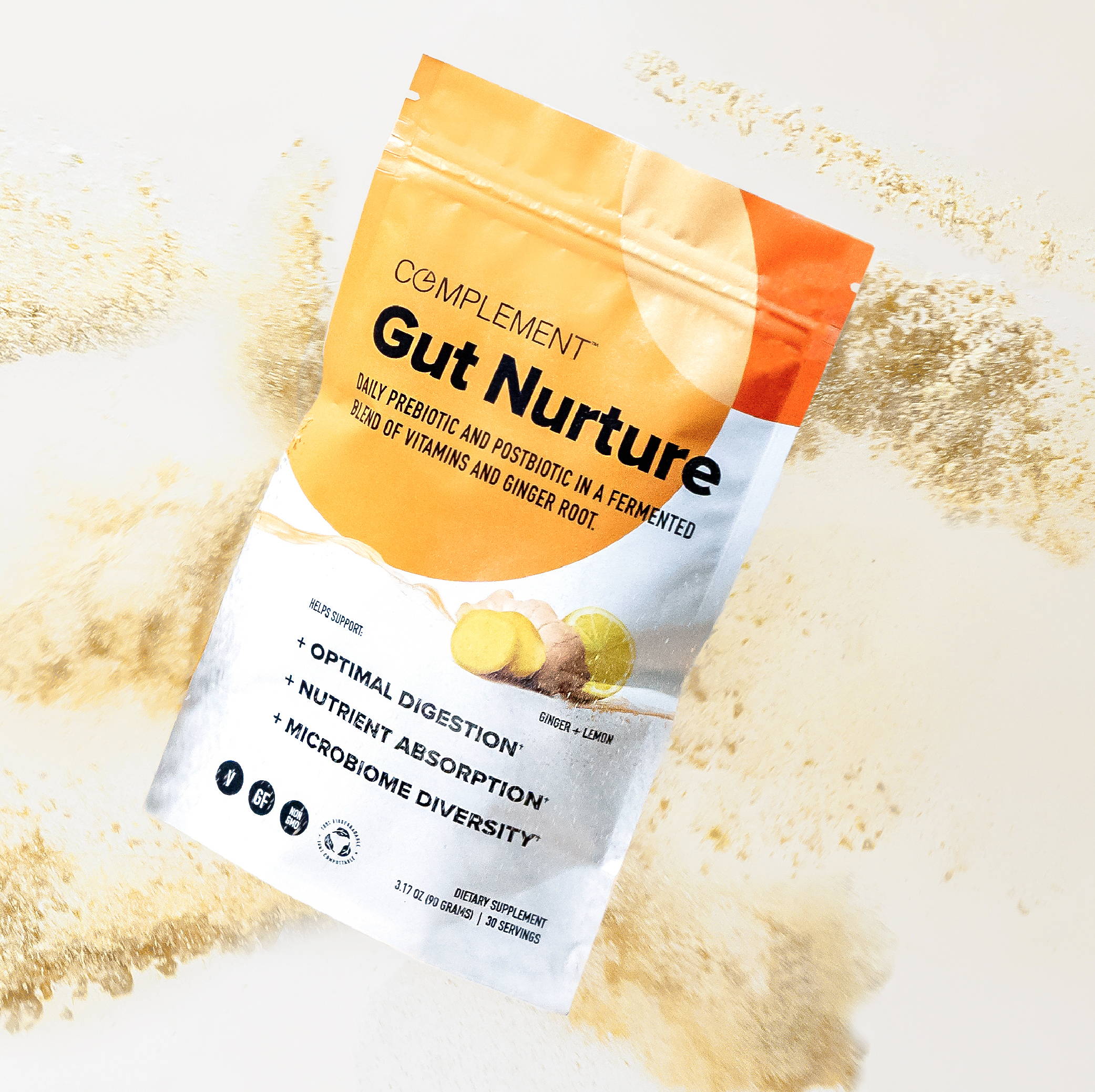 Benefits throughout the body.

Supports optimal digestion*
Promotes a healthy digestive system to reduce discomfort and gas production and reinforce healthy stools.*
Supports nutrient absorption*
Supports optimal nutrient processing to aid the rate of absorption.*
Establishes microbiome diversity*
Supports the growth and diversity of healthy gut microbiota.*
Supports a healthy immune system*
Helps prepare your immune system to fight off viral invaders and communicate stress systemically.*
Supports energy levels*
Supports optimal digestion to preserve and maintain energy.*
Supports a healthy metabolism*
Aids in the synthesis of vitamins and the creation of short-chain fatty acids in your digestive tract.*
Supports cardiovascular health*
Supports intestinal processing of bad cholesterol.*
Formulated in partnership with leading gut Registered Dietitians.
As practicing plant-based Registered Dietitian Nutritionists who specialize in integrative gut health, we work with thousands of clients who feel they can't properly digest plant foods or experience issues related to gut health. This is especially true for those struggling with Irritable Bowel Syndrome (IBS) and/or Small Intestinal Bacterial Overgrowth (SIBO). We created Gut Nurture to help our patients bolster their microbes to find gut balance and optimal gut motility (movement).
Gut Nurture does not add massive strains of microbes like many probiotic supplements, but instead, it seeks to nurture the healthy microbes (gut bugs) so your gut microbiome can multiply and thrive.*
We have spent the last 14 months working hand-in-hand with Complement and patients to formulate a robust gut-supporting tool to relieve short-term discomfort and help establish a microbial environment that supports immune, energy, and long-term health.*
MARRIED TO HEALTH
Dahlia Marin, RDN, LD
and James Marin, RD, EN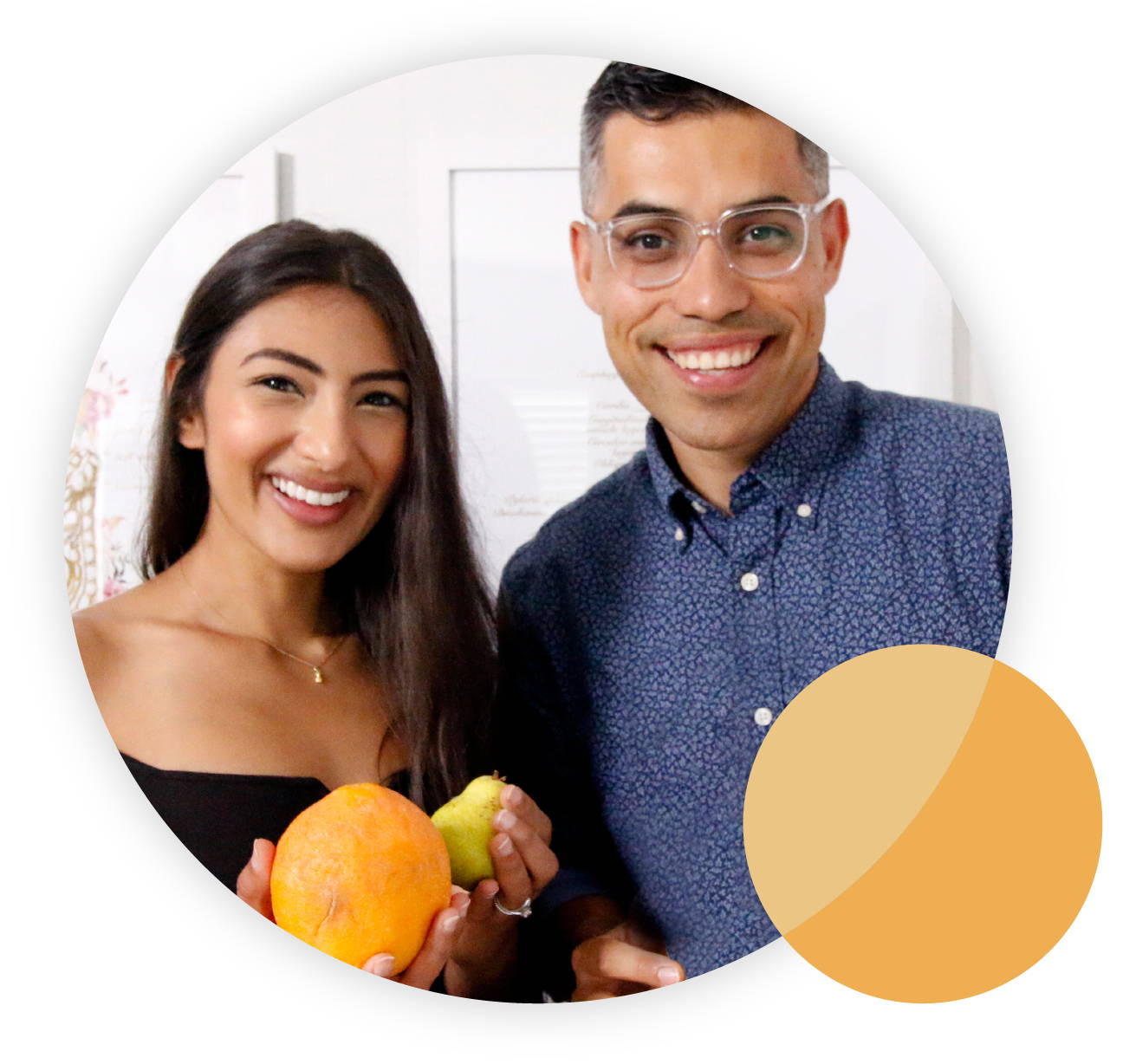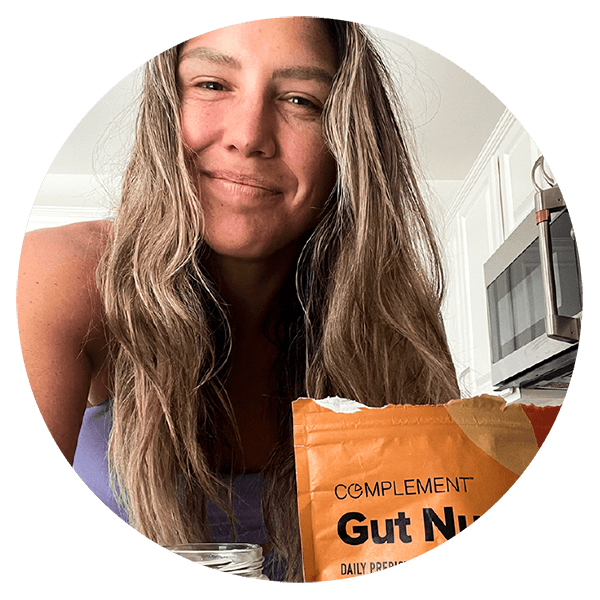 "Such a wonderful product! I feel really great while using it, and it has a delicious taste."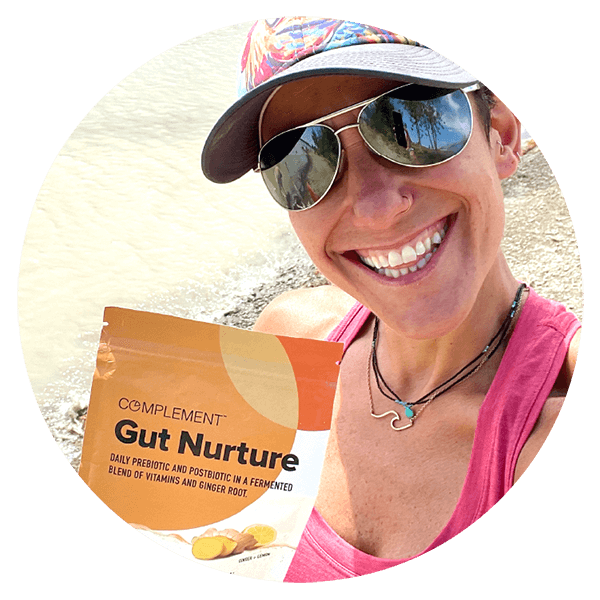 "I love Gut Nurture! It has really helped with intense nausea."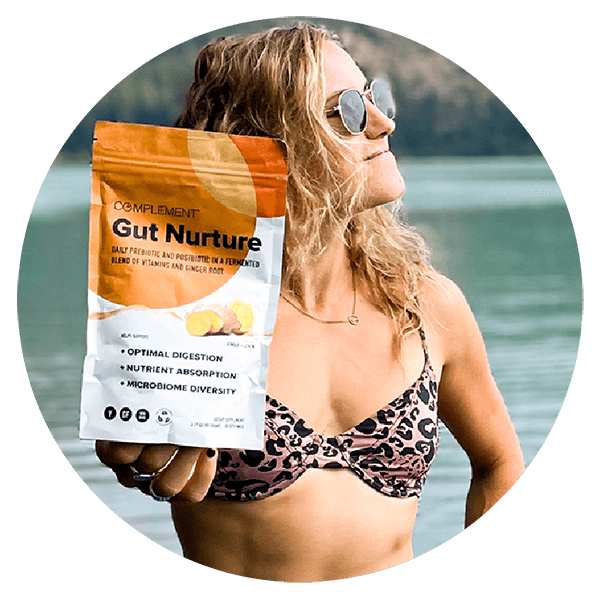 "I love the lemon ginger kick! Gut Nurture is my new go-to as the first thing I consume in the AM."
| | | |
| --- | --- | --- |
| | | |
| | | |
| | | |
| Contains essential prebiotic fibers. | | |
| Contains pre-fermented vitamins. | | |
| Versatile and delicious drink mix. | | |
| Science-backed herbal support. | | |
| | | |
| Engineered for plant-based diets. | | |
| 3rd party tested, transparent production. | | |
| | | |
| | |
| --- | --- |
| | |
| | |
| | |
| | |
| | |
| --- | --- |
| | |
| | |
| | |
| Contains essential prebiotic fibers. | |
| | |
| --- | --- |
| | |
| | |
| | |
| Contains pre-fermented vitamins. | |
| | |
| --- | --- |
| | |
| | |
| | |
| Versatile and delicious drink mix. | |
| | |
| --- | --- |
| | |
| | |
| | |
| Science-backed herbal support. | |
| | |
| --- | --- |
| | |
| | |
| | |
| | |
| | |
| --- | --- |
| | |
| | |
| | |
| Engineered for plant-based diets. | |
| | |
| --- | --- |
| | |
| | |
| | |
| 3rd party tested, transparent production. | |
Bold ginger taste. Powerful gut solution
Gut Nurture's taste is as bold as it is powerful. With a burst of ginger flowing through your body, you can almost feel Gut Nurture at work.
Just one teaspoon of Gut Nurture mixed with water or a smoothie infuses your gut with science-backed prebiotics, postbiotics, vitamins, ginger, and herbs.
It's a convenient way to easily nurture your healthy gut flora, day in and day out.
One teaspoon. Daily support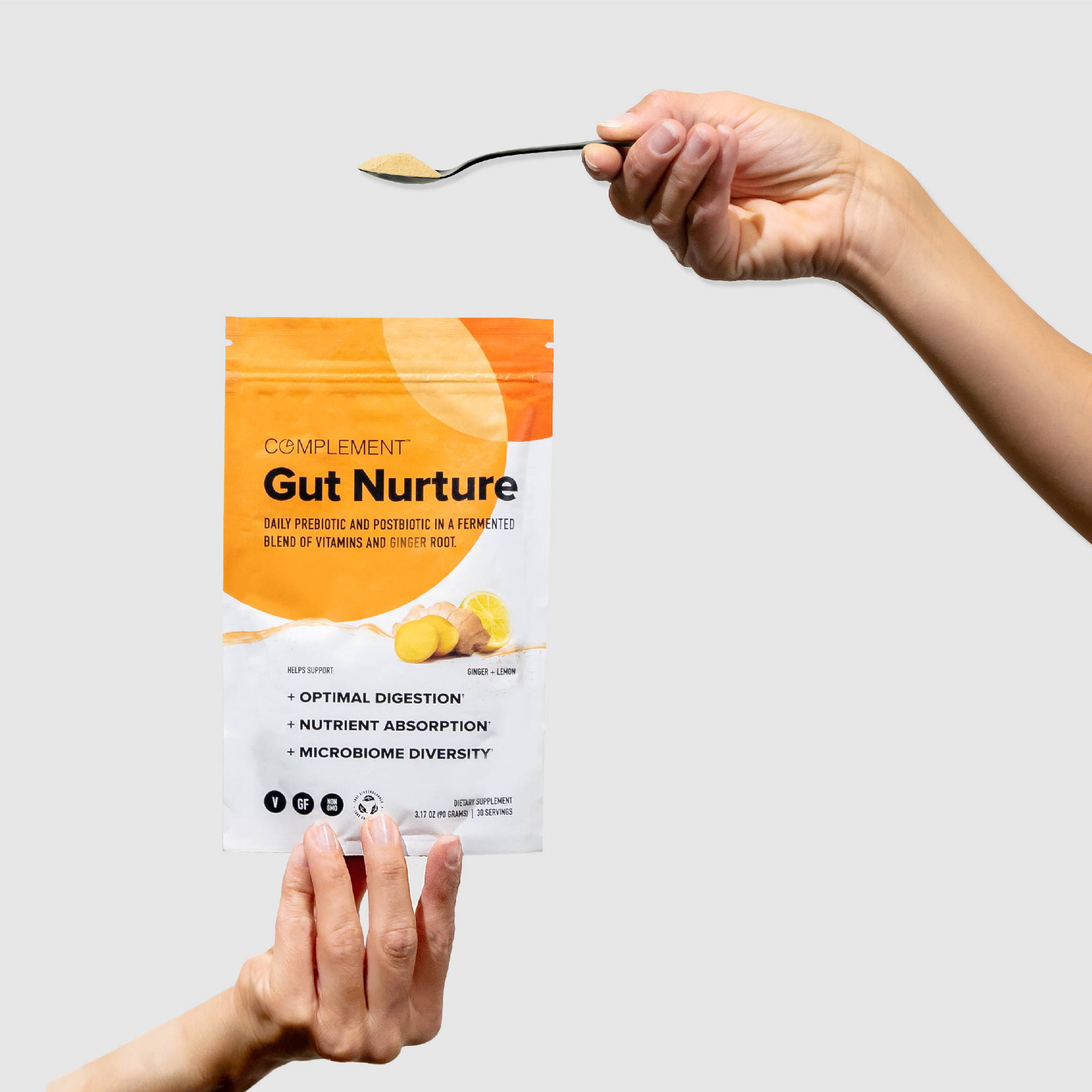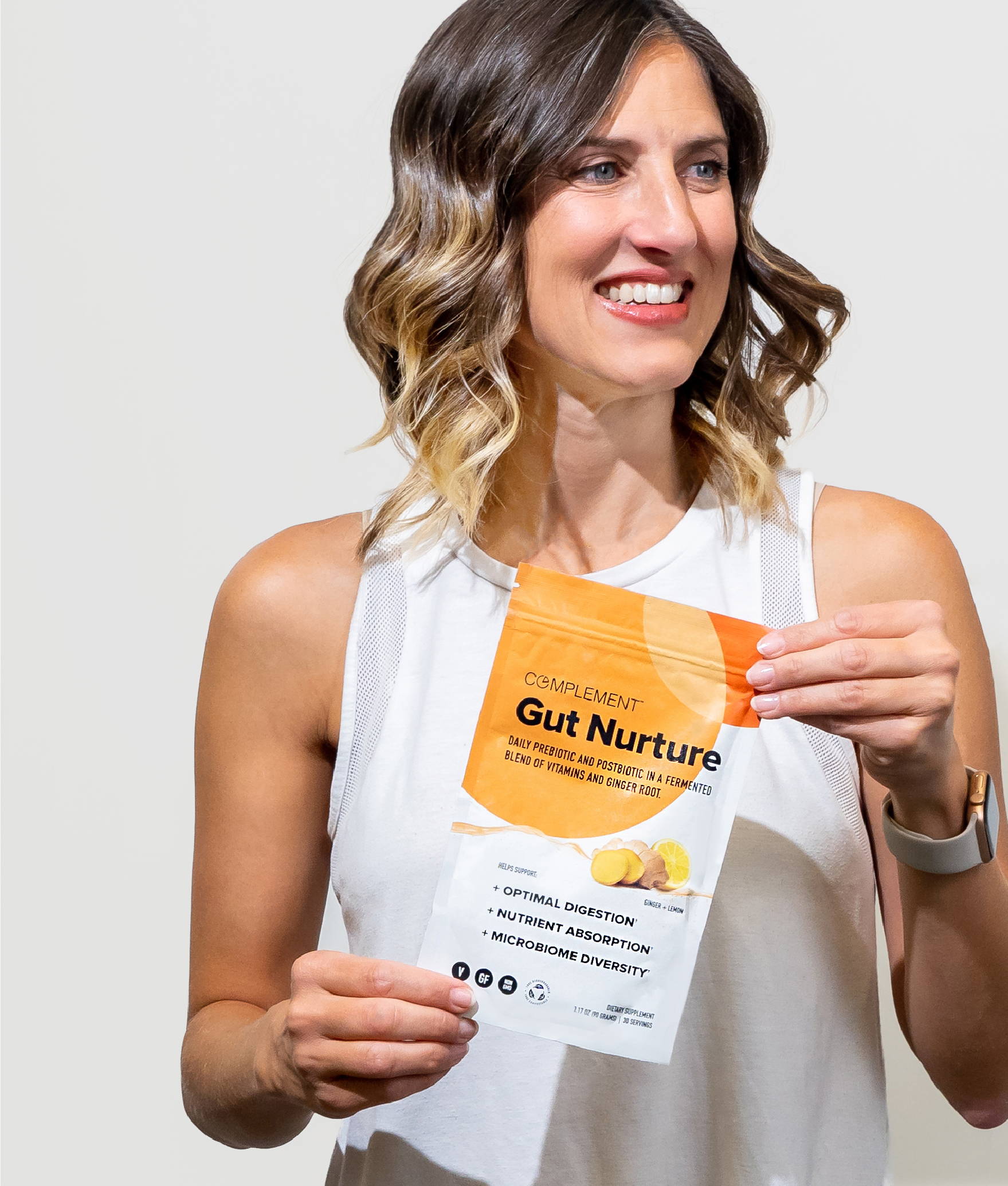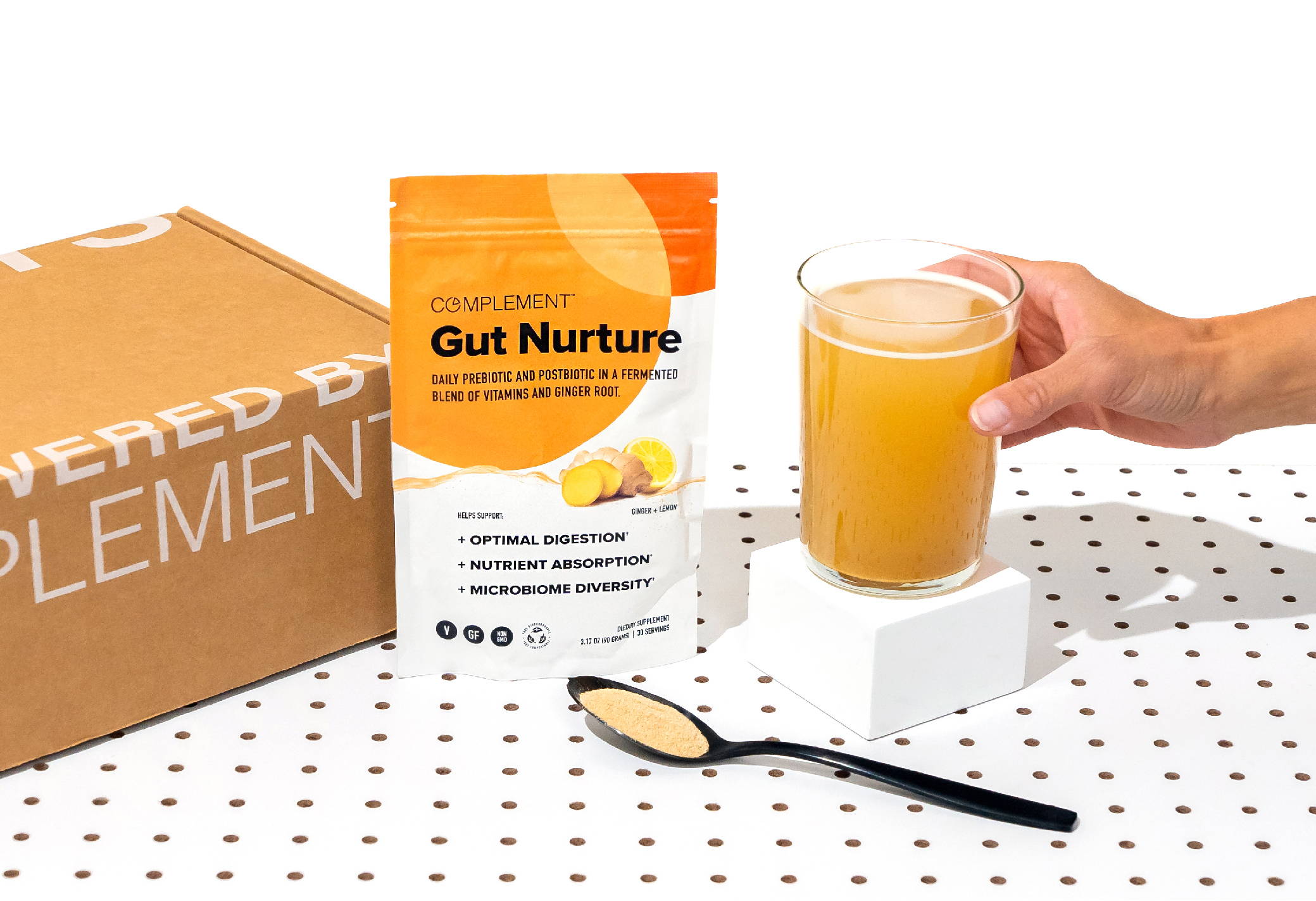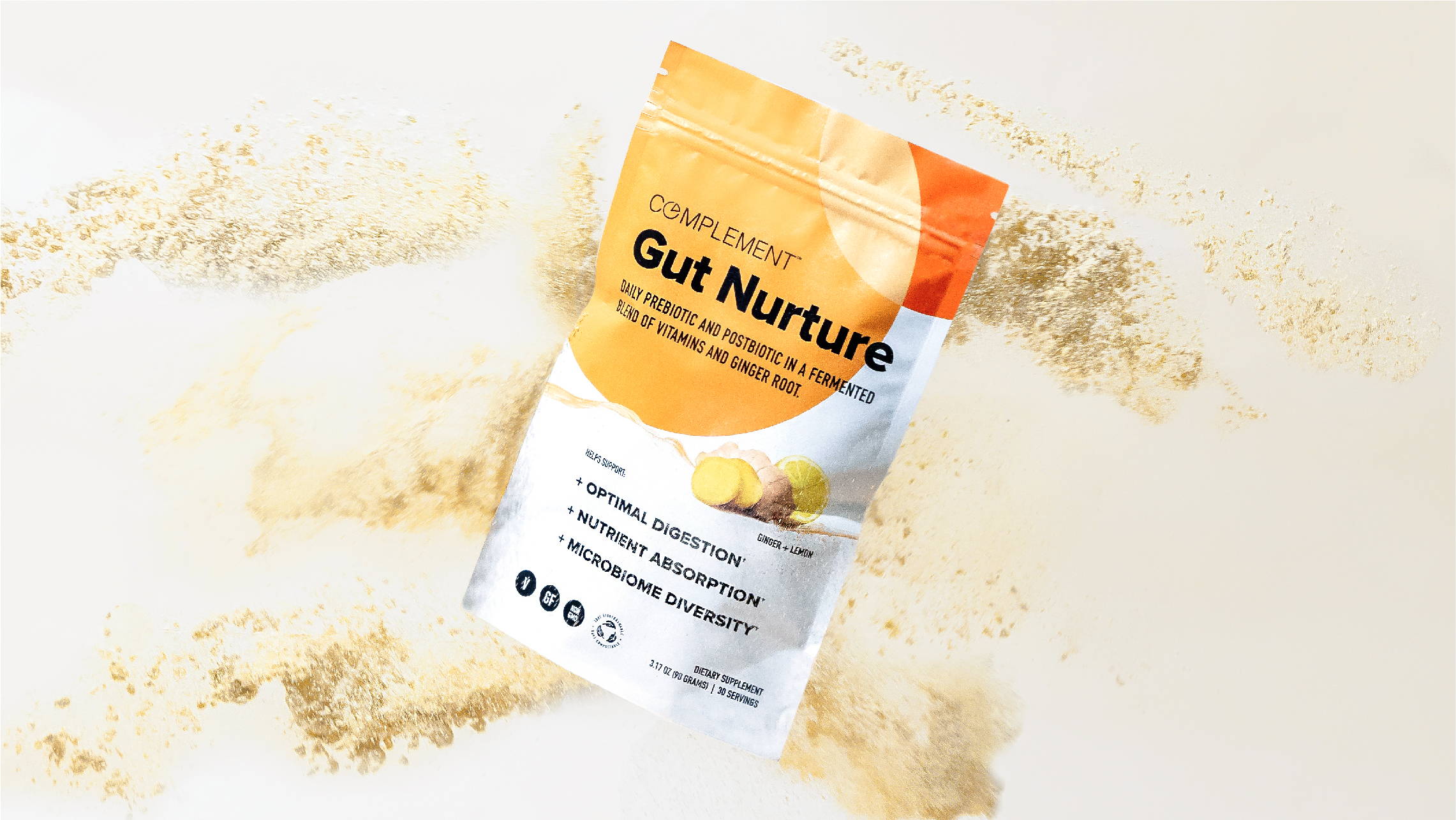 Gut Nurture's easy to use mix makes it easy to support and build a healthier gut microbiome whether you're at home, traveling, or on-the-go.
Simply add a teaspoon to water, juice, or smoothie for powerful results.
Frequently bought together.
Fully transparent production.
Gut Nurture goes through a rigorous inspection process that includes third-party testing.
We want you to be certain that you are getting the highest quality nutrients, free from pollutants, heavy metals, and harmful pathogens — not to mention common allergens and artificial sweeteners, colors and flavors. That's why every batch undergoes a rigorous series of tests to confirm that it contains all that it should — and nothing that it shouldn't.
And we mean rigorous! We do as many as 19 different tests to ensure potency and safety. All this is done in pharmaceutical-grade facilities that are FDA Registered, and operate under cGMP standards.
This means that every ingredient and dosage on the back of the bag is verified by an independent lab. And just as important, the ingredients are tested for things like pesticides, E Coli, heavy metals, and salmonella.
Potency
We verify that all active ingredients on the label are present in the right amounts. But we're not satisfied with just meeting those - to ensure potency over time does not diminish, we aim for 10-20% over what the label states.
Heavy Metals
We take soil and water pollution seriously, especially since we design our products to help your body fight against it. Therefore, each batch gets tested for Arsenic, Cadmium, Lead and Mercury.
Pathogens
Our products are doubly protected by being produced in a certified facility, and tested for yeast and mold, and possible bacterial presence, such as Salmonella, E.coli and other coliforms.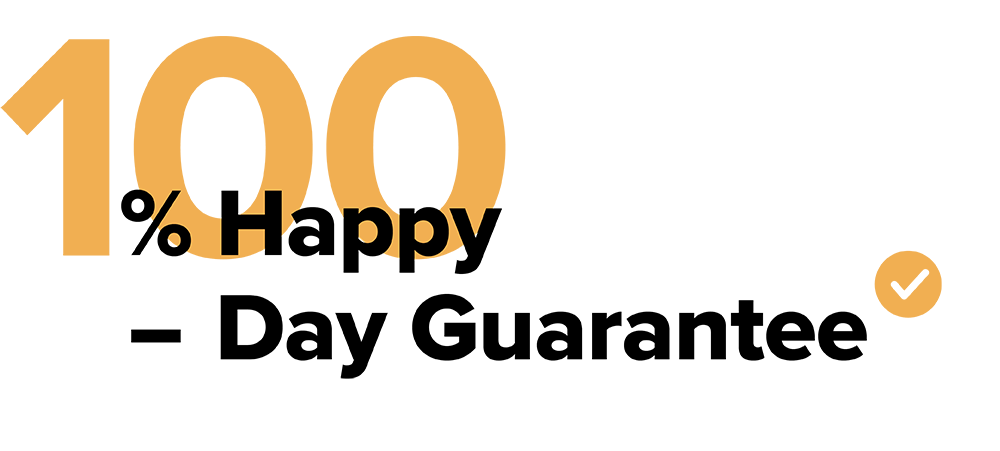 We stand behind our products 100%. If you're not happy with the results, taste, or experience, we'll fix it.
You have a full 100 days after receiving your product to try it out and see if it's the right fit for you.
And if you don't love it within the first 100 days, we'll issue a full refund. No questions asked. No fine print. That's the Complement guarantee.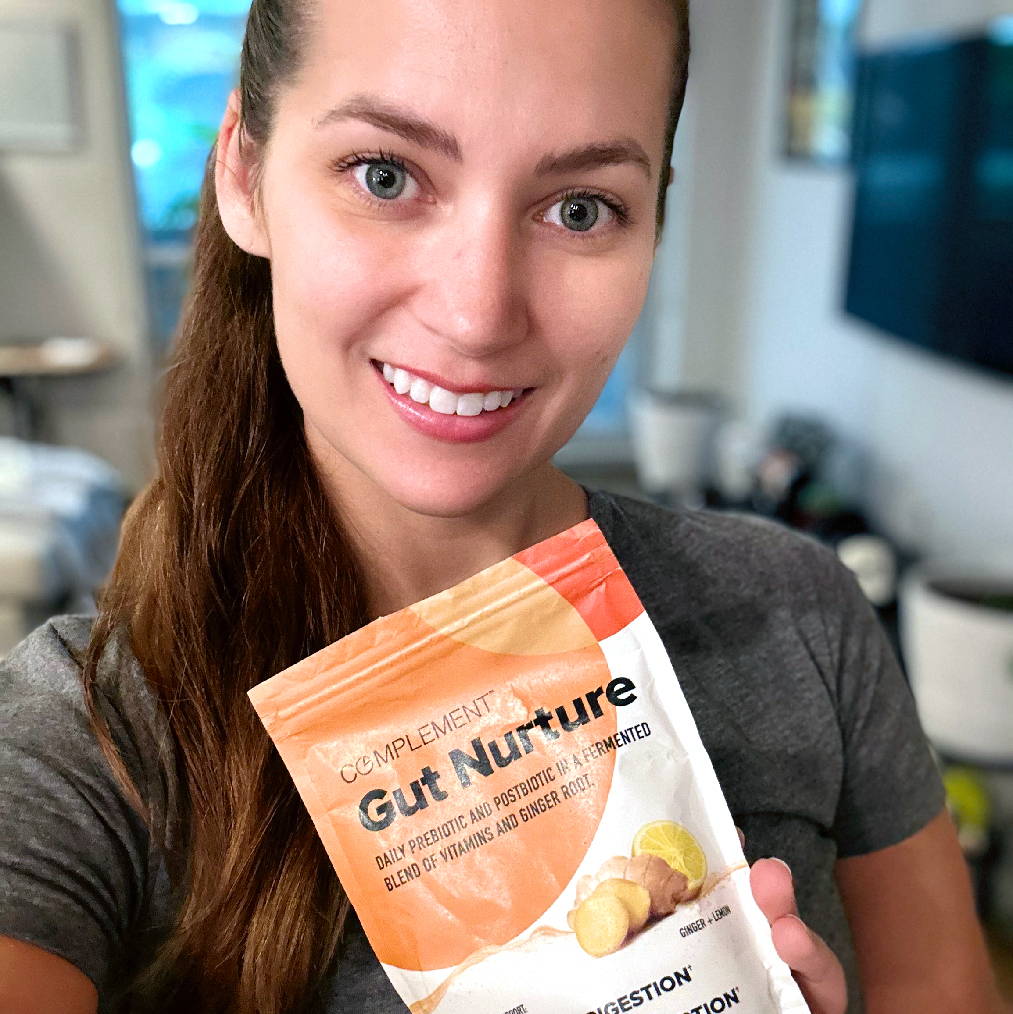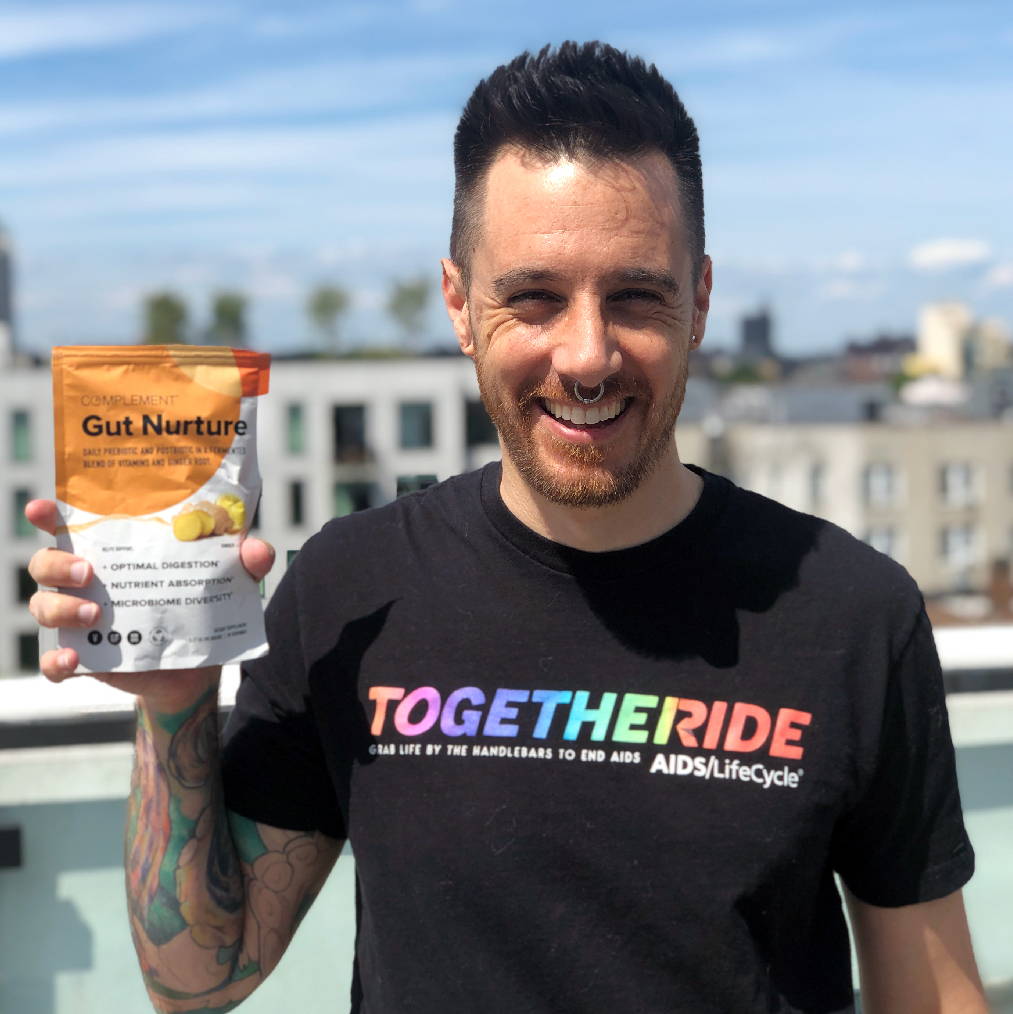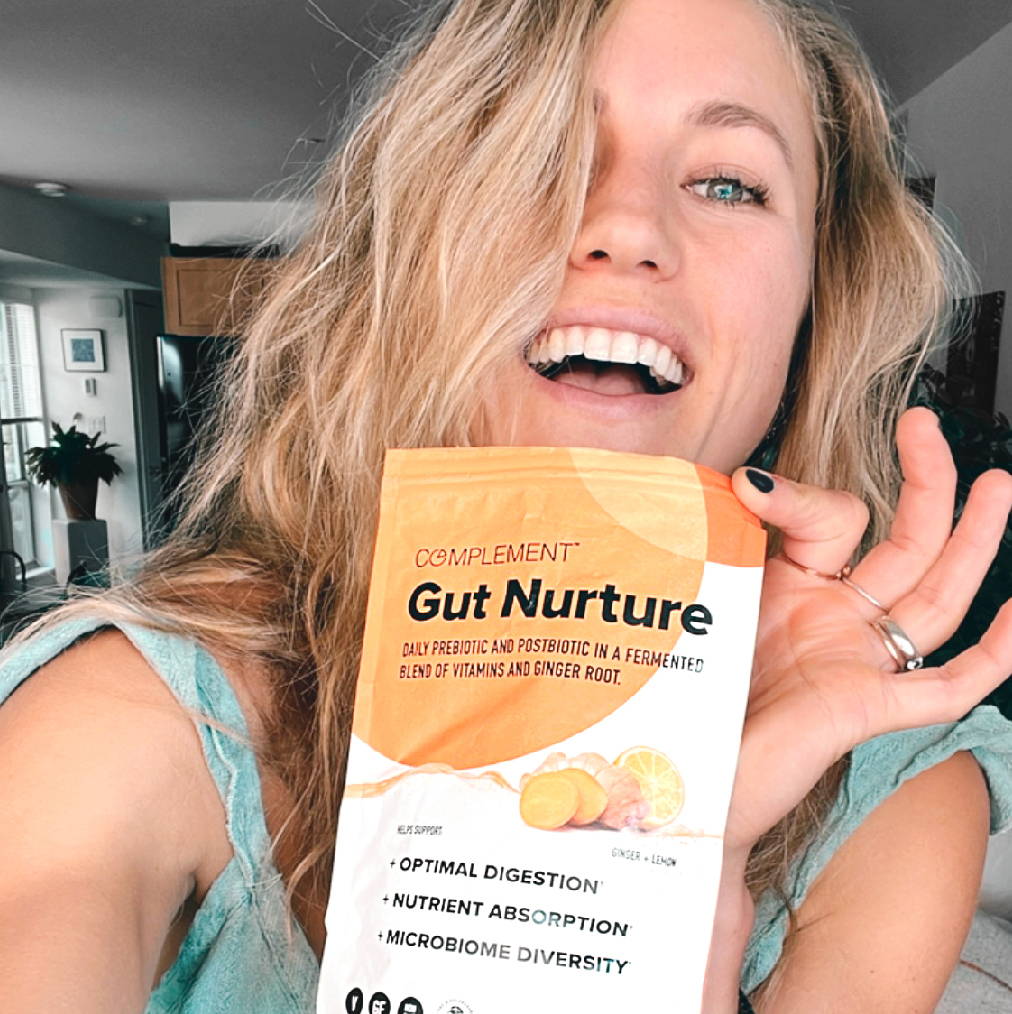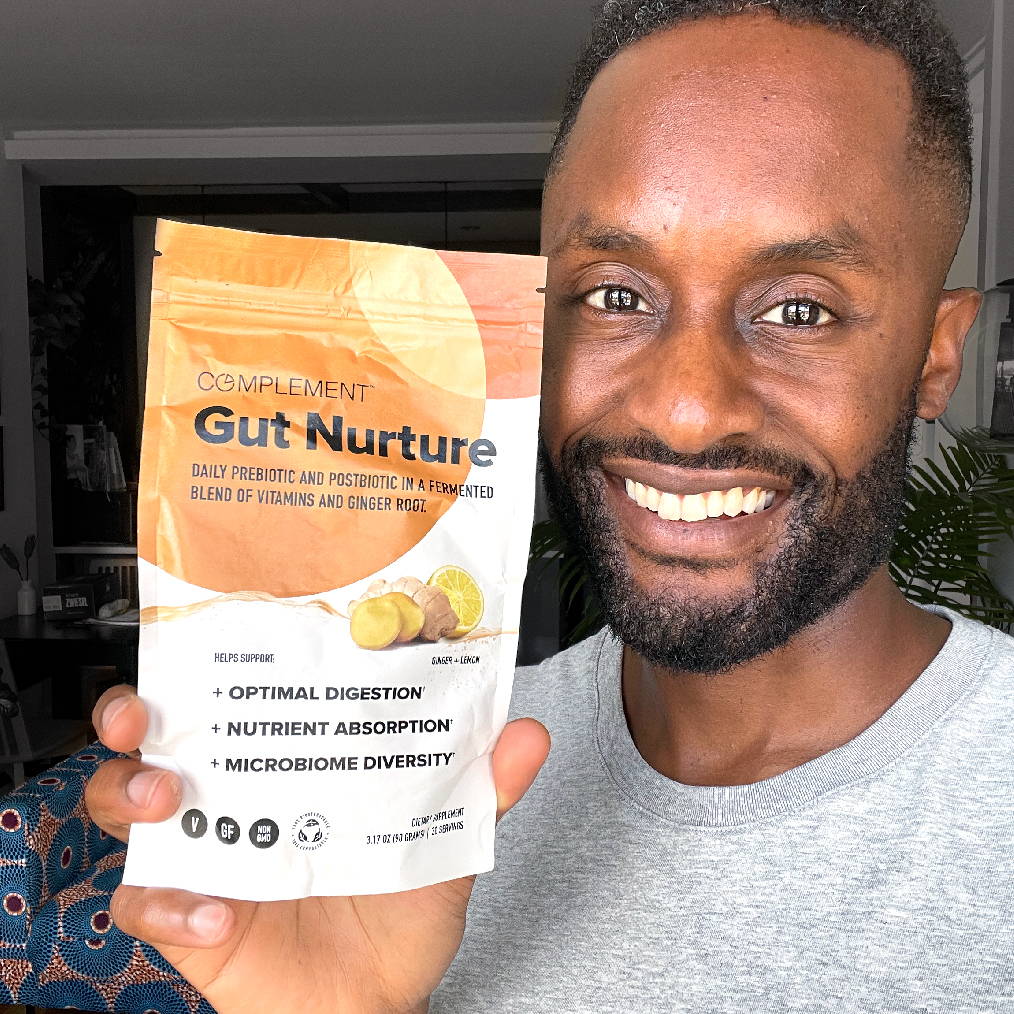 Frequently asked questions. Still not sure? Find answers to your questions here...
It's easy to subscribe & save.
Free US Delivery at $95
We'll get Complement right to your door, right on time.
Easy Subscriptions
Complement coming too slow or too fast? You can adjust or skip orders in whatever way suits you.
Satisfaction Guaranteed
Return your order at any point within 100 days of purchase for a full refund.